'A symbol of elegant play. An inspiration. A source of admiration for fans'
'The whole world knew him and through him the world knew the Netherlands'
Reaction to the death of football great Johan Cruyff, who died in Barcelona on Thursday following a five-month battle with lung cancer.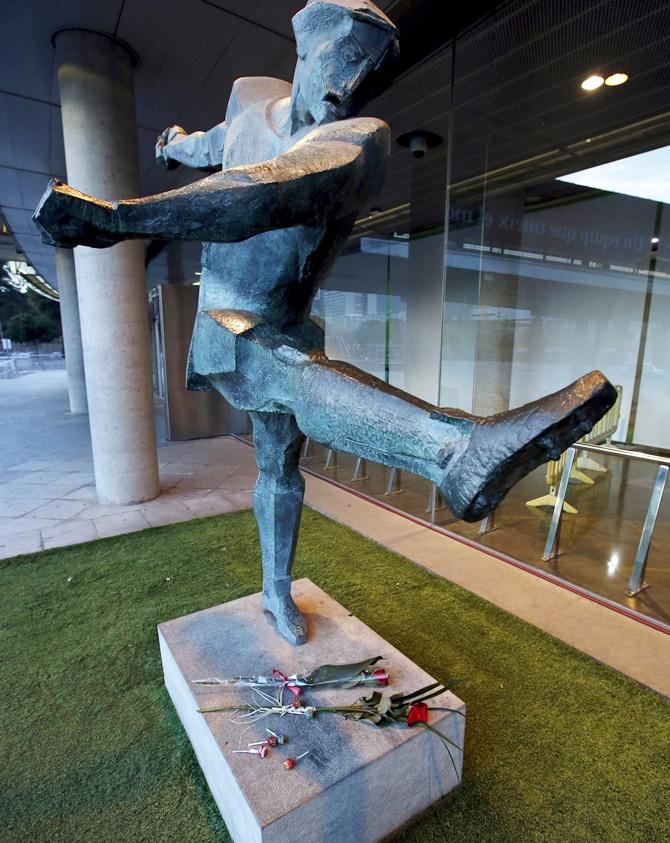 IMAGE: Flowers and lollipops are seen on a soccer sculpture at Camp Nou stadium in honour to Johan Cruyff, who died in Barcelona on Thursday following a five-month battle with lung cancer. Photograph: Albert Gea/Reuters
"We have lost a great man. May we carry on his example of excellence. Johan Cruyff was a great player and coach. He leaves a very important legacy for our family of football." -- Brazil's triple World Cup winner Pele.
Dutch soccer legend Johan Cruyff passes away
The legend of 'Flying Dutchman' Johan Cruyff
"I played against and tried to mark Johan Cruyff in the final of the European Cup in 1969. He could break down any system and you really didn't understand what was going on. He was a universal player, who followed in (Alfredo) Di Stefano's footsteps, he didn't just attack up front but he dropped back to pick up the ball. He was everything and he wasn't anything, there wasn't a role for him." -- former Italy and Juventus coach Giovanni Trapattoni.
"We are shattered it happened so quickly. I have lost a friend but the Netherlands has lost great footballer, a forward thinker who dedicated his life to taking football to the highest level possible. His importance to Dutch football was enormous." -- Dutch football association (KNVB) president Michael van Praag.
"He was the best footballer we ever had." -- former Dutch midfielder Ronald de Boer.
"We knew he was sick but he was optimistic and prepared to fight. He was not only the best footballer the world has seen but also a great analyst. He could see things so differently and express a view that you would never have thought of." -- Dutch sports minister Edith Schippers.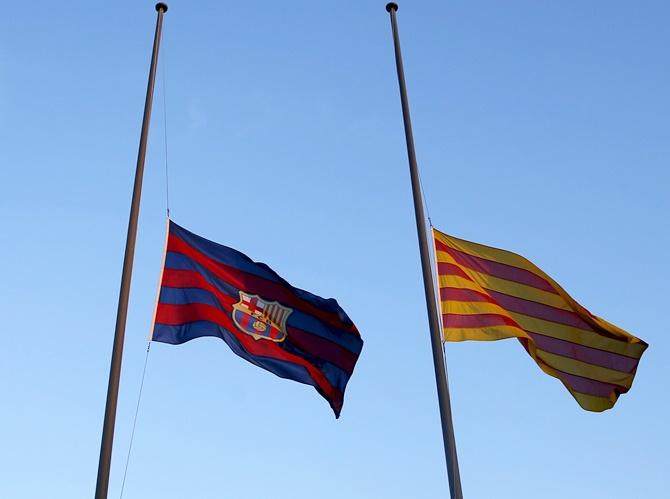 IMAGE: FC Barcelona's and Catalunya's flags fly at half mast at Camp Nou stadium in honour to Johan Cruyff. Photograph: Albert Gea/Reuters
"The Netherlands has lost a unique and genial star who gave sport a new face. He was an icon of the Netherlands." – Dutch King Willem-Alexander.
"The whole world knew him and through him the world knew the Netherlands." -- Dutch Prime Minister Mark Rutte.
"Johan Cruyff was a magnificent player, one of the greatest players the world has ever known. A symbol of elegant play. An inspiration. A source of admiration for fans. He has marked football history for ever." -- FIFA president Gianni Infantino.
"We will always love you Johan. Rest in peace." -- Barcelona on Twitter.
"Deeply touched by the death of my best ever coach and good friend. Thank you for everything. For always in our hearts." -- Ronald Koeman, manager of Southampton who played under Cruyff at Barcelona. "I'm shocked. He was not only a good friend but like a brother to me." – Franz Beckenbauer, who played against Cruyff in the 1974 World Cup final.
"I had the privilege of having him as a coach when I played at Barcelona. He was, without doubt the greatest coach I had, his teachings were be eternally with me. He knew better than anyone how to take advantage of what every member of the team did best and he knew my skill was scoring goals." -- Brazilian striker Romario.
"Sad to hear that Johan Cruyff has died. Football has lost a man who did more to make the beautiful game beautiful than anyone in history." -- Gary Lineker.
"He was one of those great, great footballers that made you excited whenever he got the ball and began to play. There was always expectation in the crowd when Johan was on the pitch. There wasn't a negative thought in his head. He loved the game, he loved sport and he loved life. He was one of the greatest footballers I have ever seen, you would put him in the same class as Pele, Di Stefano and Maradona. The kind of football he played changed the game and still has an impact today." -- England's 1966 World Cup winner Bobby Charlton.