'You cannot sack all the players so sack the manager -- whether right or wrong'
'Some major players in the dressing room have given up on him'
Following are some of the reactions to the sacking of Chelsea boss Jose Mourinho on Thursday: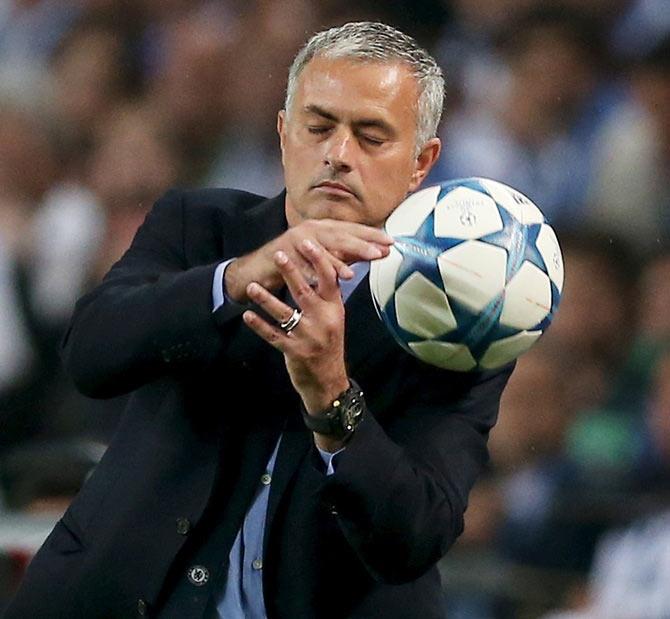 IMAGE: Jose Mourinho takes evasive action. Photograph: Matthew Childs/Reuters
CHELSEA MIDFIELDER CESC FABREGAS, ON TWITTER
Thank you for all you have done for me. I owe you a lot and we will all miss you. Good luck in the future.
Here's everything you need to know about former Chelsea manager Mourinho
FORMER ARSENAL STRIKER THIERRY HENRY, ON SKY SPORTS
They needed a change to spark a reaction, but they have sacked the best manager in their history and the best manager in the game.
The players should be held accountable. You cannot sack all the players so sack the manager -- whether right or wrong.
What happened in some of the games is not all down to Mourinho. There was a lack of desire and commitment.
FORMER LIVERPOOL MANAGER GRAEME SOUNESS, ON SKY SPORTS
I think I know that he has lost his dressing room and that some major players in the dressing room have given up on him. And if you fall out with two or three of the main men in the dressing room, that would quickly become all of the dressing room. And I think that has happened.
There has been something fundamentally wrong in the last few months at Chelsea. That is why part of me says I am not shocked, but the other part of me thinks that because of what Jose Mourinho has done for Chelsea -- both first time round and second time -- would have bought him a bit of time.
FORMER CHELSEA STRIKER CHRIS SUTTON
Previously he was perceived as intelligent, charming and witty but (with) some of his antics this season he has really let himself down.
There were cracks appearing when he subbed (Nemanja) Matic and had a dressing down with (Eden) Hazard. He clearly had lost the players earlier in the season. Performance-wise, he must have seen things weren't getting any better. You can't doubt Mourinho's coaching credentials but he has clearly lost the dressing room.
FORMER ENGLAND CAPTAIN ALAN SHEARER, ON BBC RADIO 5 LIVE
I've never known a capitulation like it from a football club. I have never known players to perform like they did last season and then be so bad now. It's unprecedented.
Once you fall out with players then it is a very difficult situation you find yourself in. If you fall out with two or three you can move them on. But when you go over that you're talking about half a dressing room. You can't sack all the players. Then you have a decision to make.
SUNDERLAND BOSS SAM ALLARDYCE
I'm shocked to say the least.
They must already have somebody lined up to have done it now.
I'm sad to see Jose go because I got to know him quite well and he's a great manager with great character. He's a loss to the Premier League.
FORMER ARSENAL DEFENDER MARTIN KEOWN
This has been an accident waiting to happen.
Mourinho talked about betrayal this weekend. Go back to October and he was talking about rats within the camp. There have been big problems right from the start of the season.
He has lost the players. There is no trust there, respect is gone. Ultimately it is easier to change a manager than 22 players.