Once labelled mild and fragile, P V Sindhu has undergone an astounding transformation, discovers Nikita Puri.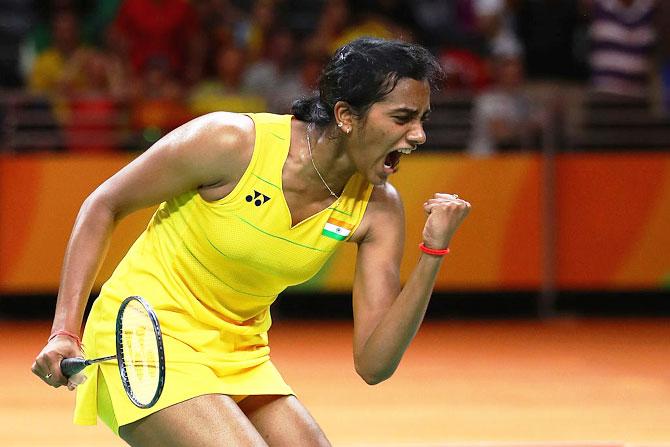 IMAGE: By claiming the China Open title last month, P V Sindhu has shown that her Rio Olympic silver medal win was not a one-off. Photograph: Clive Brunskill/Getty Images
A little over a year ago, when Tuhin Mishra and his team were working on Pusarla Venkata Sindhu's public image, people would often ask them: Who is Sindhu?
Though she had won a bronze at the World Badminton Championship, not once but twice (2013 and 2014), few took notice of her, says Mishra, managing director and co-founder of Baseline Ventures, a sports marketing and brand licensing company. It was perhaps because she looked mild and also fragile.
All of that changed when Sindhu bulldozed her way into the final at this year's Rio Olympics, demolishing one formidable opponent after the other.
All those who watched her play were pleasantly surprised by her new persona -- the lanky lass had transformed into a hard-hitting aggressive player, matching her rivals smash for smash, scream for scream.
Even as brands started queuing up to sign Sindhu after Rio, there was a section that was closely watching to see if Sindhu's explosive play was a flash in the pan, recalls Mishra.
Now that she has clinched her maiden China Open title and finished runner-up in the Hong Kong Super Series, everybody knows Sindhu is anything but mild and fragile.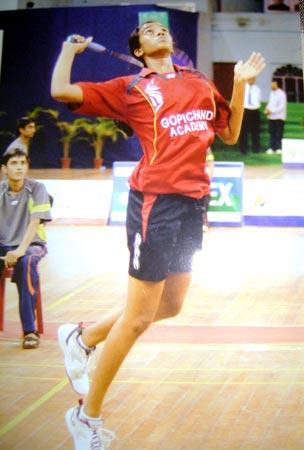 Sindhu, who, not so long ago would like to endlessly hang around the court to chat, has become a towering combination of skill, strength and attitude, and that has captivated the whole nation.
She is genetically gifted to be successful in sports -- her father P V Ramana and mother P Vijaya were both volleyball players.
An Arjuna Awardee, Ramana was a member of the bronze medal-winning Indian team at the 1986 Seoul Asian Games.
Sindhu's elder sister, P V Divya, was a national handball player who has now moved to medicine.
But good genes can only take you so far.
Team Sindhu has consciously worked on her on-court skills, physical strength and the mental toughness in the last year or so.
And the results have been remarkable.
At 1.79 metres, Sindhu always had the height advantage -- she was able to cover the whole court in a few strides.
She has now started to put it to even better use in her game.
"Attack is my strong point, and the jump smash that I learnt shortly before Rio has really helped me score points," says Sindhu in her carefree sing-song voice.
This jump smash was inspired by her father. Ramana always felt the 'volleyball spike' would work in badminton as well and he'd often ask Sindhu to give it a shot.
She'd resist because her shots would keep going into the net -- now it's turned into one of her strongest weapons.
The last few months have also seen a dramatic plugging of the chinks in Sindhu's defence, especially when she was under constant pressure during the China Open.
"I am now concentrating on improving all my strokes," says Sindhu, after her return from Hong Kong.
Notably, it was Taiwan's Tzu Ying stroke-play and deft retrieval abilities that won her the match against Sindhu.
"Gopi Sir (Pullela Gopichand, her coach) makes all the sports-related decisions for us. I have become aggressive because that's what the game demands," says Sindhu.
People around her know the change has been profound.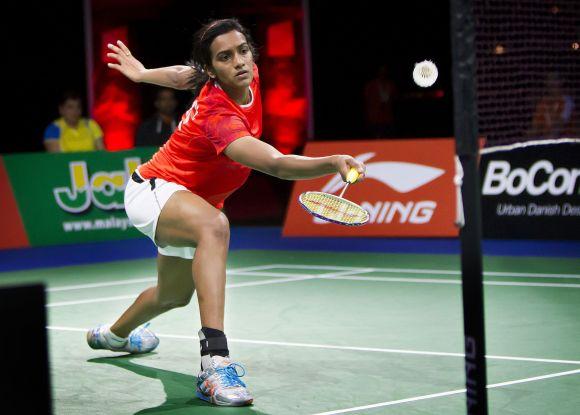 IMAGE: Sindhu dribbles at the net during the Badminton World Championships in Copenhagen.
During her early days in training, "There weren't many girls of Sindhu's calibre, so she always trained with the boys."
Photograph: Nils Meilvang/Scanpix Denmark/Reuters
"There are very few players, especially female, who hit (the shuttle cork) as hard as Sindhu does," says Arun Vishnu, Sindhu's coach for the Premier Badminton League.
Sanjay Sharma, former national badminton player and coach, feels that in the last one year, Sindhu has become far surer of herself, and her on-court movement has vastly improved.
"She doesn't give her opponent much time to settle down, which works in her favour," he adds.
A large part of Sindhu's growth is because of how she has been trained, believes her father Ramana.
"Yes, Gopichand had always wanted her to be more aggressive on the court, but now she too gets the point," he adds.
Belligerence has become a defining trait in Sindhu's game, and this on-court aggression stems from the early days of her coaching.
"There weren't many girls of Sindhu's calibre, so she always trained with the boys. And she'd mostly beat them," says Vishnu, laughing.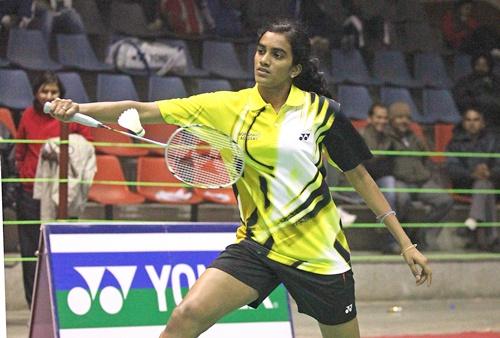 IMAGE: When Sindhu joined the Gopichand Academy in 2008, she came in with good reflexes and flexibility.
But since she turned 12, the focus has been about perfecting and tweaking parts of her fitness schedule.
When Sindhu bagged the silver at Rio, there were congratulatory banners across Hyderabad. Those have now disappeared. But at the entrance of the Pullela Gopichand Badminton Academy, an image of Sindhu holding up the Tricolour welcomes visitors -- Congratulations, Super Sindhu for China Open 2016 win.
Up a flight of stairs, in the lobby of the academy, a notice board shows news clippings of Sindhu's Rio exploits -- the bits about China Open and Hong Kong haven't made their way here yet.
Before all the frenzy leading up to Rio, the grounds of the academy would often see Gopichand's students playing other games. Sindhu would join them to play games like Seven Stones and kho-kho in the expansive grounds outside the academy.
What'd make the deal sweeter was that the losing team would have to treat the winning team for lunch or dinner, recall the students at the academy.
"We'd specifically ask them to play Indian games. The idea behind these games is not just to provide fun activities, but also to improve a player's accuracy," shares C Kiran, the physiotherapist at the academy and a significant part of Team Sindhu.
When Sindhu joined the academy in 2008, she came in with good reflexes and flexibility. But since she turned 12, the focus has been about perfecting and tweaking parts of her fitness schedule.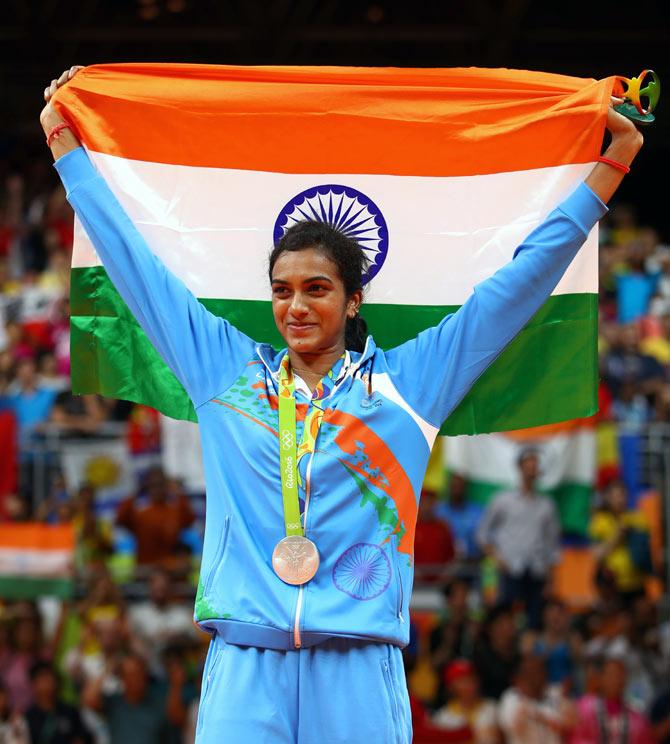 IMAGE: P V Sindhu during the medal ceremony in Rio. Photograph: Clive Brunskill/Getty Images
It's a mix and match of different exercises, on-court training and yoga that make up Sindhu's days, most of which begin with her starting practice at 4:15 am.
The last few months have seen a drastic difference in Sindhu's form, feels her father.
"Till about a few months before Rio, Sindhu's physical fitness was just fine. Up till then everyone's focus was largely on her skills. It was only in the months before the Olympics that the focus moved to her fitness and there was a tremendous improvement in that area," says Ramana.
An average of 100 push-ups, 200 sit-ups, and 400 to 500 moves to strengthen her abdominal and core muscles are now par for the course for Sindhu, and her high levels of fitness are clearly visible on court.
For a long time, Gopichand's team had to focus on Sindhu's stability issues -- problems which arose only because she was tall. This includes a stress fracture in her ankle about a year before Rio. But injuries such as these were expected, shares Kiran.
Even when her leg was in a cast for two-and-a-half months, Sindhu was never out of training. The focus was on strengthening her upper body.
"She has achieved far more than her body allows, she has delivered more than what was expected. That's a good sign for us," he says.
She is only 21 and many believe her best badminton days are still ahead of her.
'Wonder Girl', 'Giant Killer', 'Silver Queen' and 'Dragon Slayer' -- Sindhu says she is thoroughly amused by the many names people call her by.
And behind the scenes at the academy, few would recall the time Sindhu was in tears during a practice session shortly before Rio.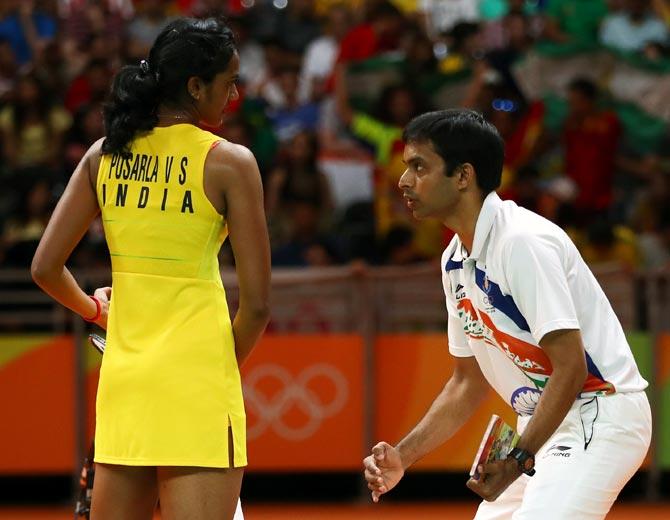 IMAGE: Sindhu gets tips from coach P Gopichand during the Rio Olympic final in August. Photograph: Clive Brunskill/Getty Images
Gopichand had repeatedly asked Sindhu to shout while hitting to show a visible sign of aggression, but Sindhu would hold back.
That was when the usually soft-spoken and courteous Gopichand shouted at her.
This shocked Sindhu, but it also did the trick.
"She'd shout before, but it was never like what we saw at the Olympics," recalls Ramana.
"Gopichand has worked wonders. It's totally out of character for Sindhu to be so aggressive; she's turned into a mean player and that's very good. And this isn't just physical, but also mental aggression," he explains.
Even when Sindhu's down and almost out, you see her fighting back.
"She's no longer there just to play a game; she's there to give it her best," says Sharma.
The 'calculated aggression' that has made its way into Sindhu's game is being hailed as a sign of her maturity.
Somewhere between the long rallies at the China Open semi-final, when Sindhu realised that Korea's Sung Ji Hyun was sensing her attacks and picking up her smashes, Sindhu slowed down her pace to alternate between defence and offence.
It takes courage to slow down when you are tuned to aggression. And she showed the same resilience when she went up against China's Sun Yu the next day as she patiently tore down Sun Yu's resistance.
Many attribute Sindhu's mental strength to yoga and meditation -- something she does only because it is required of her.
Usually calm before a game, the mental strength that Sindhu now showcases also comes with focus and discipline.
Active on social media, Sindhu's posts are a reflection of her buoyant persona and never-give-up attitude.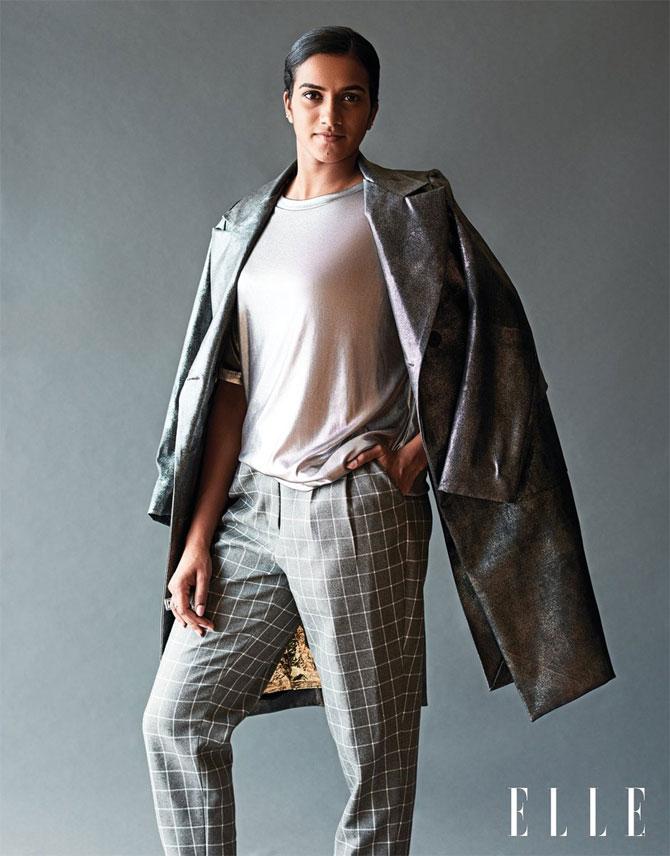 IMAGE: The Stylish Sindhu seen here at an Elle India photoshoot.
The Hyderabadi shuttler is a regular 21 year old who enjoys staying connected to fans through social media.
Photograph: Kind courtesy Pvsindhu1/Twitter
After the Hong Kong Open, she tweeted, 'Finally ended up with the silver. Had a great week in Hong Kong, extremely happy with my performance.'
Another of her posts reads: 'Keep smiling n one day life will get tired of upsetting u #keepsmilingalwaysnomatterwhat'.
All of Sindhu's posts come with selfies or pictures from tournaments.
Knowing her social media disposition, Gopichand had taken away her phone for three months before Rio.
Sindhu, who takes to social media like fish to water, suddenly found herself wearing blinders. It tremendously upped the shuttler's game as her focus stayed on badminton.
Even in Rio, right after she had scripted history, an unprompted act showed that the game may have been over, but Sindhu's focus had still not wavered to the cheering crowds or her waiting coach.
This was the simple, yet impulsive, act of picking up Carolina Marin's racquet (which the Spaniard had flung away in excitement) and keeping it safely aside Marin's bag.
The next assignment for Sindhu will be the Premier Badminton League scheduled for January.
While Sindhu will play for the Chennai Smashers, Marin will play for the Hyderabad Hunters in the PBL.
"The whole country is waiting for the match when Sindhu will face Marin again," says Vishnu, "Maybe Sindhu will have her revenge then."