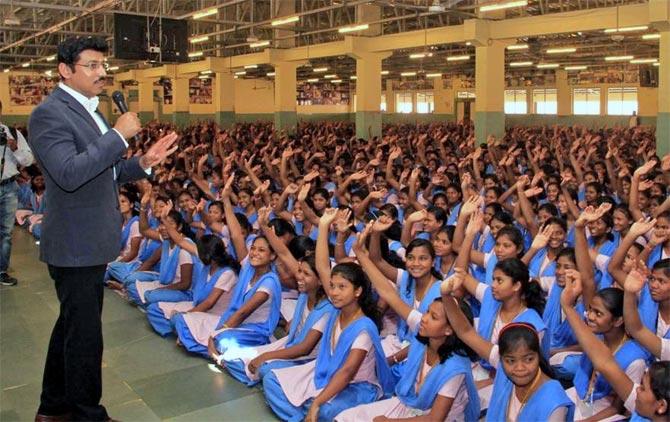 IMAGE: Rajyavardhan Rathore interacts with students at KIIT University in Bhubaneswar. Photograph: Rajyavardhan Rathore/Twitter
Union Minister of State for Youth Affairs and Sports Rajyavardhan Singh Rathore on Sunday said the government will launch a 'Khelo India' programme at a cost of Rs 1,756 crore for the period 2017-18 to 2019-20.

This marks a watershed moment in the history of Indian sports, as the programme aims at mainstreaming sports as a tool for individual development, community development, economic development and national development, he said.

The initiative would impact the entire sports ecosystem, including infrastructure, community sports, talent identification, coaching for excellence, competition structure and sports economy, said Rathore, who is also the Minister of State for Information and Broadcasting.

Highlighting some salient features of the programme, the Union minister said a new Pan Indian Sports Scholarship scheme, which would cover 1,000 most talented young athletes each year across select sports disciplines will be introduced.

Each athlete selected under the scheme will receive an annual scholarship worth Rs 5 lakh for 8 years, Rathore said, addressing the 'Yuva Sambardhana Utsav'.

The year 2018 will be celebrated as Year of Sports, he said.

The Khelo India campaign aims to promote 150 select schools in as many districts, and 20 universities across the country, as hubs of sporting excellence, which would enable talented sports persons to pursue the dual pathway of education and competitive sports.

The programme would cover about 200 million children in the age group of 10-18 under a massive national physical fitness drive, the minister said.

Under the scheme, a campaign will be launched from January 31, 2018 to February 8, 2018 to spot sports talents under 17 years in schools, which will be telecast live.

Likewise, another programme will be launched for under-21
college students.
"Our aim is 2024 and 2028 Olympics. The spotted talents will be imparted specialised training to make them medal winners," Rathore said.
"We can't produce national and international level sports persons with huge infrastructure only. For this, we need strong will power," the minister said.
Ministry will give complete funding to Hockey India: Rathore
Sports Minister Rajyavardhan Singh Rathore on Sunday announced that his ministry will provide complete funding to Hockey India as they prepare for a triple major next year -- Commonwealth Games, Asian Games and the World Cup.
"From hereon, Commonwealth Games, Asian Games and World Cup are all Olympic preparatory tournaments besides being major competitions. The ministry will give complete funding to Hockey India in terms of whatever they need. 2018 is the year of sports in India," Rathore told reporters during a press conference on the sidelines of HWL finals in Bhubaneswar.
Rathore congratulated the young Indian team for retaining the bronze medal in the Hockey World League (HWL) Final.
"In the past few months, our hockey team's performance has been good. In this tournament also, the comeback has been good. Indian team is the youngest in terms of average age, which helps build endurance, speed and bench strength," the Olympic silver medallist said.
Rathore reiterated that the Central Government will do everything possible in its capacity to support the athletes and raise the bar of sports in the country.
"All the schemes until now the focus was on infrastructure funding. It's the easiest thing to do. But how do you bring players to practice in those stadiums. That funding was missing. Khelo India programme is funding those soft sponsorships," he said.
"Every year we will fund 1000 players, give them Rs 5 lakh for the next 8 years and keep adding 1000 every year."
He also said that India is among the top five countries in the world where there are incentives, job reservations, meritorious pensions for deserving athletes.