'We identified 55 prospective shooters and put them through an elaborate evaluation process to select the 20 best ones among them.'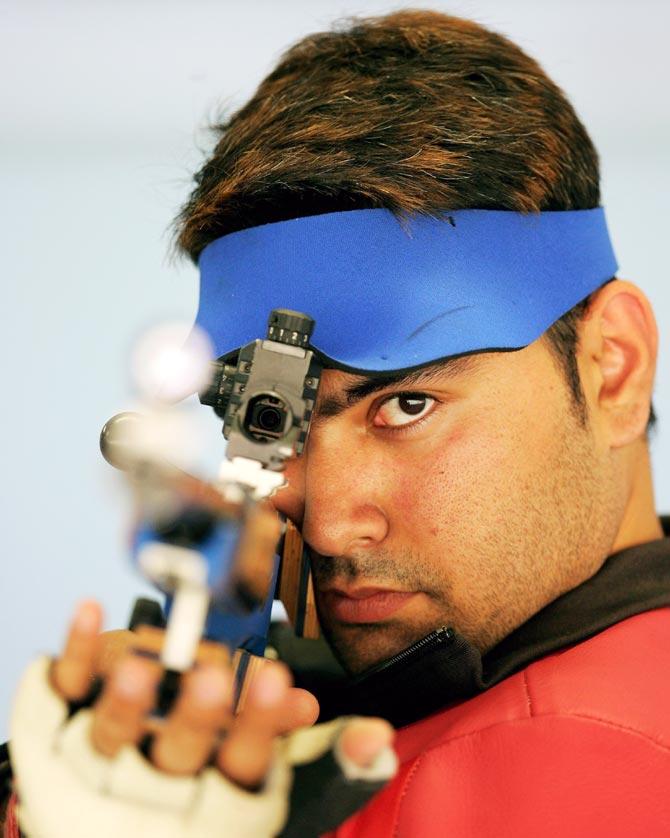 IMAGE: Gagan Narang in action. Photograph: Cameron Spencer/Getty Images
The Gagan Narang Sports Promotion Foundation (GNSPF) on Friday announced its "The Project Leap" plan to train and turn 20 young and talented shooters from different parts of the country into international champions.

The selected shooters would be mentored by top international coaches and receive training at state-of-the-art facilities, including sports science support, for a full year, said a media release from the academy founded by the Khel Ratna Awardee and London Olympics bronze medal winner.

"We identified 55 prospective shooters and put them through an elaborate evaluation process to select the 20 best ones among them," explained the ace rifle shooter.

"We looked for various skill-sets that are required for sustained high-level performances in world-level competitions," he added.

Narang's Gun For Glory academies identified the 55 shooters and he personally supervised each centre's selection process to hand-pick the best prospects, the release said, adding that the project is part of the Gagan Narang mentoring programme with Vision 2024.

"It has taken us a couple of years to bring together all stakeholders and find the right ingredients for project leap. It is now in its truest sense a leap for Indian shooting. We are confident that we will be able to tap and nurture the vast talent in our country and will help in transforming them into world class shooters," said the 34-year-old shooter.

Former Indian shooting coach and director of GNSPF, Pawan Singh said that it will usher in a new leaf in the history of the sport in India.

"The selected shooters will undergo specialised training programmes in their respective Gun For Glory academies. They will be provided with international standard equipment for daily practice," Pawan said.

"Through the year, the youngsters will attend different camps as well, with each camp lasting 12 days, in which equal weightage will be given to mental and physical preparation and technical refinement," he added.