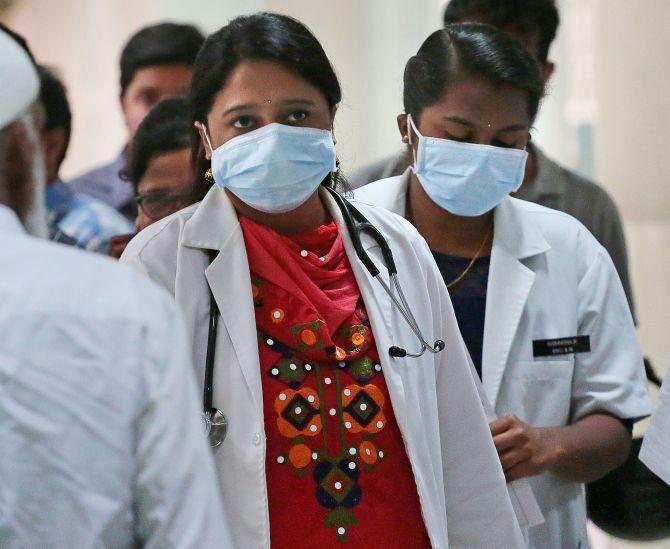 Bajrang Punia to donate six months' salary to Haryana's relief fund
Wrestler Bajrang Punia pledged to donate his sixth months' salary towards Haryana's COVID-19 Relief Fund.
The wrestler announced it on his Twitter account.
The total number of coronavirus cases in the country reached 467 and nine people have died due to the virus, the health ministry said on Monday.
As many as 15,17,327 passengers have been screened at airports so far.
Maharashtra has reported the highest number of cases in the country which stands at 74, according to the ministry. Kerala, which reported India's first coronavirus case, has 67 confirmed cases.
The World Health Organisation had declared coronavirus a pandemic on March 11.
Coming together as community will keep our cities safe from COVID-19: Leander Paes
Indian tennis star Leander Paes said that coming together as a community will keep our cities safe and also help us to combat the spread of the coronavirus pandemic.
Lauding the people's effort of abiding the 'Janta Curfew' called by the Prime Minister Narendra Modi on March 22, the veteran player said that a billion-plus Indians came together for one cause.
Video Courtesy: Leander Paes/Twitter
"Well done India Flag of India Yesterday we had 1 plus billion of us coming together for a common cause. A Big Thank You to all the people who unconditionally support our community, keeping us safe! Strength of our Nation Flag of India #ProudIndian #TogetherWeStand #StrengthOfIndia #PowerOfOurPeople," Paes tweeted.
Many cities and States are facing complete or partial lockdown to contain the spread of the virus.
Keeping in mind the curfew-like situation in the country, Paes advised the people to do things that they always love to do while staying at home and washing their hands properly.
"Cooking it up during curfew, trying to be an innovative to keep the boredom away. Today, one billion-plus Indians came together to fight against COVID-19. Well done! India, coming together as a community will keep our cities safe," Paes said in a video posted on Twitter.
"This is to calling out all my friends around the world also to come together as a global community to keep our cities safe. Stay at home, wash your hands, enjoy your time with your kids, your parents and your loved ones and do the things that you always love to do. Cook it up as well! Be safe," he added.
Ravichandran Ashwin changes Twitter username to 'let's stay indoors India'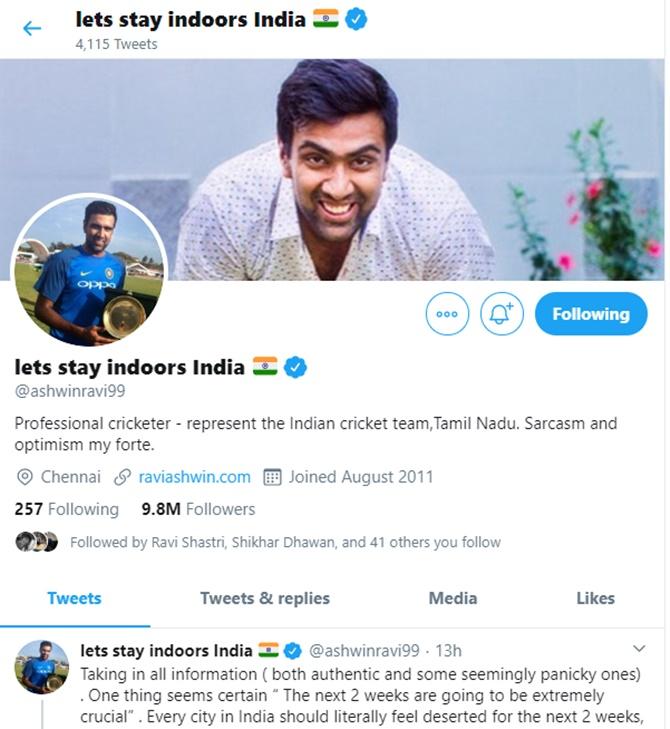 Asking the citizens of the country to stay indoors as a precautionary measure against the coronavirus pandemic, Indian spinner Ravichandran Ashwin decided to change his Twitter username to 'Let's stay indoors India'.
In a series of tweets, the spinner also revealed as to why the next couple of weeks will be crucial in the battle against COVID-19. "Taking in all information ( both authentic and some seemingly panicky ones). One thing seems certain. The next 2 weeks are going to be extremely crucial". Every city in India should literally feel deserted for the next 2 weeks, cos if this escalates it will be mayhem. #COVID19," Ashwin tweeted.
In another tweet, he went on to say that the population is quite big in the country, and there are quite a few who cannot get access to information.
"We need to remember we are a densely populated country and a very large part of them don't have access to information," Ashwin tweeted.
David Warner teaches his daughter how to use hand sanitiser
Australian batsman David Warner taught his daughter Ivy how to use hand sanitiser to combat the coronavirus pandemic.
The opening batsman took to Instagram and posted a video in which he can be seen teaching Ivy the benefits of washing hands after touching any object. "So why do we use this Indy? To kill the virus, replied Ivy. We got to be very-very careful. Always wash your hands or use hand sanitizser after we touch anything," Warner said in a video post to Ivy.
Video Courtesy: David Warner/Twitter
The cricketer is enjoying some time away from the cricket field as all the sporting events across the world has been either postponed or stand cancelled.
The ODI and T20I series between Australia and New Zealand was postponed in the wake on the COVID-19.
PCB converts its high performance centre into temporary living room for paramedics
The Pakistan Cricket Board (PCB) converted its High Performance Centre as a temporary living area for paramedic staff working at the makeshift hospital at Expo Centre in Karachi.
"All the paramedic staff are our heroes as in these challenging and difficult times. They are risking their lives to save the lives and well being of many affected by COVID-19," PCB Chief Operating Officer Salman Naseer said in a statement.
The Sindh province of Pakistan reported 42 new coronavirus cases on Monday -- three in Karachi and 39 in Sukkur. The provincial tally is now 394. Saeed Ghani, the province's Minister for Education, Labour and Human Resources, has tested positive for coronavirus.
In addition, Khyber Pakhtunkhwa's health department recorded six new cases in the province. The number of positive cases in the region now stands at 38.
Punjab has detected 21 new coronavirus cases, the province's primary and secondary healthcare department said. The total number of Covid-19 cases in Punjab has now gone up to 246.
Pakistan-occupied Kashmir (PoK) so-called 'Prime Minister' Raja Farooq Haider announced that a complete lockdown will be imposed in the region for three weeks starting midnight on Monday.