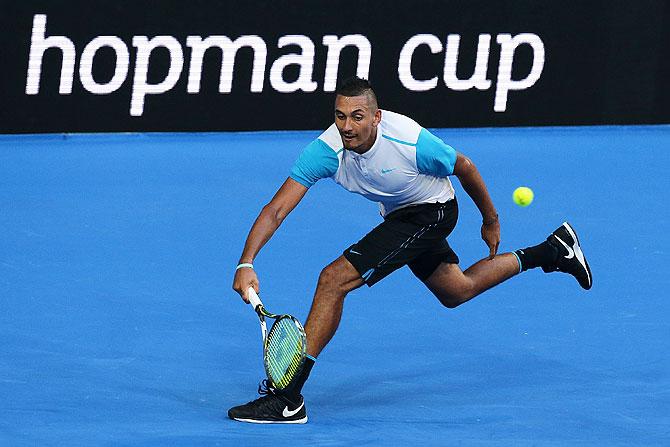 IMAGE: Australia's Nick Krygios plays a forehand against Britain's Andy Murray during their men's singles match at the 2016 Hopman Cup at Perth Arena on Wednesday. Photograph: Will Russell/Getty Images
Andy Murray's preparations for this month's Australian Open suffered a setback on Wednesday when the world number two went down in straight sets to local favourite Nick Kyrgios at the Hopman Cup in Perth.
Murray, who led Britain to their first Davis Cup triumph in 79 years just over a month ago, stormed past France's Kenny de Schepper in his opening match of the mixed teams event on Monday but did not seem to be at his 100 per cent against Kyrgios.
The 20-year-old Australian, ranked 30th in the world, had never won his previous four meetings against Murray, including three losses in grand slams last year.
But he salvaged some pride with a 6-4 7-6(5) win on Wednesday to give his team, Australia Green, a 1-0 lead against opponents Britain.
"I did promise a few of my friends that next time I played Murray I would beat him, and there you go," Kyrgios said at a court-side interview after his win.
"I've improved a lot. I've put a lot of hard work in over the off-season and it has paid off."
Knee injury forces Serena to withdraw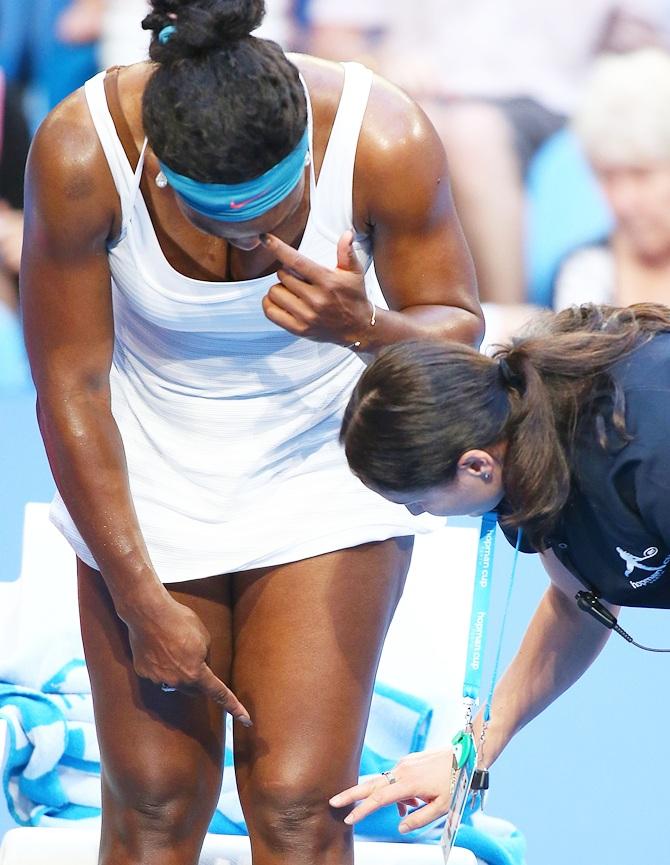 IMAGE: USA's Serena Williams talks with Player Services staff prior to withdrawing from Hopman Cup. Photograph: Paul Kane/Getty Images
World No 1 Serena Williams pulled out of the mixed teams Hopman Cup event due to a knee injury, less than two weeks before the start of the Australian Open.
After pulling out of Monday's tie against Ukraine with inflammation in her knee, the 34-year-old American hobbled through her match against Australian Jarmila Wolfe the following day before deciding she could not go on.
She had refused to rule out returning to the court for the United States' match against Czech Republic but officially put an end to that on Wednesday.
Williams will hope that the injury will not scupper her plans for the Australian Open, which starts in Melbourne on January 18.
"I have some knee inflammation that's going away very slowly. It's going, it just needs a little more time," Serena had told reporters after retiring against Wolfe.
"Maybe a day off or two will really make the world of difference.
"It's not even a bump -- just a really minor thing in the road and I'll fly over it."
Williams, who was using the event as preparation for her tilt at a 22nd grand slam singles title, will be replaced in the US team by 20-year-old Vicky Duval.