Deepak Thakur scored the decisive goal in the fourth quarter as Sher-e-Punjab registered a close 2-1 victory over Mumbai Marines to stay top of the World Series Hockey tournament, in Jalandhar, on Wednesday.
Bikramkeet Singh scored the first goal for the hosts in the 11th minute on a penalty corner while M Hariprasad (40) scored the equaliser for his side.
After squandering many a chances in the second and third quarters, Punjab adopted a cautious approach in the final quarter.
Thakur then struck a brilliant field goal to give his side lead, which they maintained till the end.
Mumbai too got chances to comeback but could not convert those.
Radzi's late goal gives Karnataka victory
A magical goal from the stick of Mohammed Radzi in the dying moments handed Karnataka Lions a stunning 3-2 win over Pune Strykers and lifted them to sixth position in the points table in World Series Hockey, in Bangalore.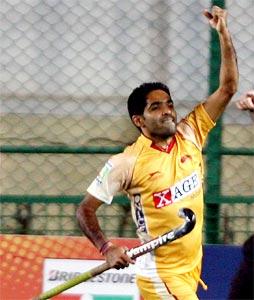 Just three minutes into the hooter a hit from the middle of the pitch went straight into the Pune goalpost with a slight touch from the stick of Radzi.
Karnataka, who were at the bottom before this match with nine points, now have 12, equal with Pune, but placed ahead of them.
Mumbai Marines, who lost to Sher-e-Punjab, have been pushed to eighth position.
It was Ravipal Singh (9th), who put Karnataka ahead and then Len Aiyappa (12th) doubled the lead by converting the penalty corner.
Just a minute before the end of first quarter, Nikkin Thimmaiah (16th) struck to help Pune reduce the lead margin.
The second quarter proved good for the visitors as Bikash Topo (29th) brought them to level terms when he struck off a rebound during a penalty corner conversion attempt by his side.
The third quarter was barren. And the incredible goal from Radzi (67th minute) came in the fourth quarter.