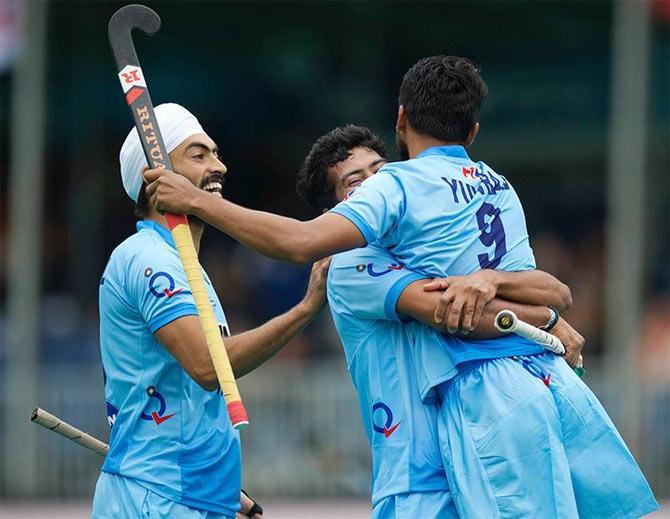 India hockey players celebrate a goal. Photograph: Hockey India
Soundly thrashed by Australia in their last match, India will look to sort out their defensive woes when they take on Malaysia in their quarter-final match of the Hockey World League Semifinals in Antwerp, Belgium, on Wednesday.
The Indian defenders, who let slip in six goals against world champions Australia in their last group match, will be again tested by the nippy Malaysians as the knockoutcompetition begins at the KHC Dragons Stadium.
Going into the quarter-finals, the Malaysians would draw confidence from their 3-2 victory against the Indians in the last fixture between the two teams at the Azlan Shah Cup two months ago.
While India are hoping that youngsters make the most of this sojourn, Malaysia will be hoping to advance in the competition as it could secure them qualification for the Olympic Games.
Having already qualified for the 2016 Olympics, India have the luxury of providing several young players exposure of playing on the bigger stage. The Asian Games champions will be eager to finish on the podium ahead of hosting the World League Finals in December.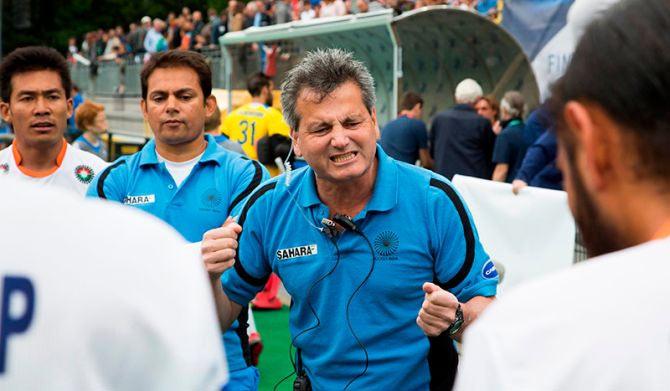 India coach Paul van Ass. Photograph: Hockey India
But coach Paul van Ass is rankled by the way his wards were hustled by Australia in the last preliminary league match, in which India suffered a 2-6 drubbing.
"The way we played against Australia can be very damaging," said coach van Ass, whose team is hampered by the absence of seasoned penalty-corner drag-flicker Rupinder Pal Singh, who got injured during a practice match.
Rupinder has not played any role in the tournament so far, but was seen training with the team during their last two matches.
India will have to be on their toes as Malaysia's nippy strikers could pose a threat to their defence.
"Malaysia are a tough side, we need to be at our best to be able to match them. We must capitalise on the chances that we get," said Indian captain Sardar Singh.
Sardar conceded that the team has been giving away too many soft penalty corners in the tournament and Rupinder's absence has impacted their own penalty corner conversion.
"We've been giving away easy penalty corners, which can hurt us. Bumpy balls are also the feature of this pitch. One needs to keep that in mind, or else you can be caught on the wrong foot," he said.
"We're missing Rupinder Pal Singh both in converting the penalty corners and in defending those against us," said captain Sardar, even as the team management is cautious not to aggravate the injury by fielding Rupinder too soon.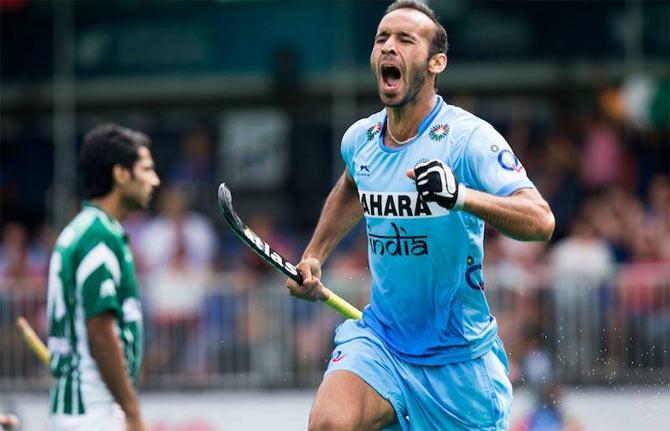 India forward Ramandeep Singh. Photograph: Hockey India
It was a much stronger Indian outfit that was beaten by Malaysia on their home turf at Ipoh in April and undaunted by India's status as the reigning Asian Games champions, Malaysia have promised to raise the tempo as they view Wednesday's match as their chance to qualify for the 2016 Olympics in Rio de Janeiro.
Three spots from each of the World League Semifinals are on offer for the Olympic Games, but even some positions outside the semi-finals have a realistic chance of making it to the 2016 Olympics.
Multiple qualification routes that allocate five spots to continental tournaments can lead to dual qualification by some countries. That could allow even teams placed fifth or sixth in the World League Semifinals from making it to the Olympics.
Former Olympic and world champions Pakistan are also confronted with a tough quarter-final fixture against Great Britain. Both are eager to seal spots in the Olympic lineup.
For Pakistan, this tournament is their last chance to qualify for the Olympics.
Three-time Olympic gold medalists, Pakistan have played at every Olympics since their first appearance in 1948. Pakistan had failed to feature among the 12 teams for the 2014
World Cup, an event that they have won more times than any other country.
In other quarter-finals, World Cup holders Australia take on Ireland, while hosts Belgium are drawn against France.