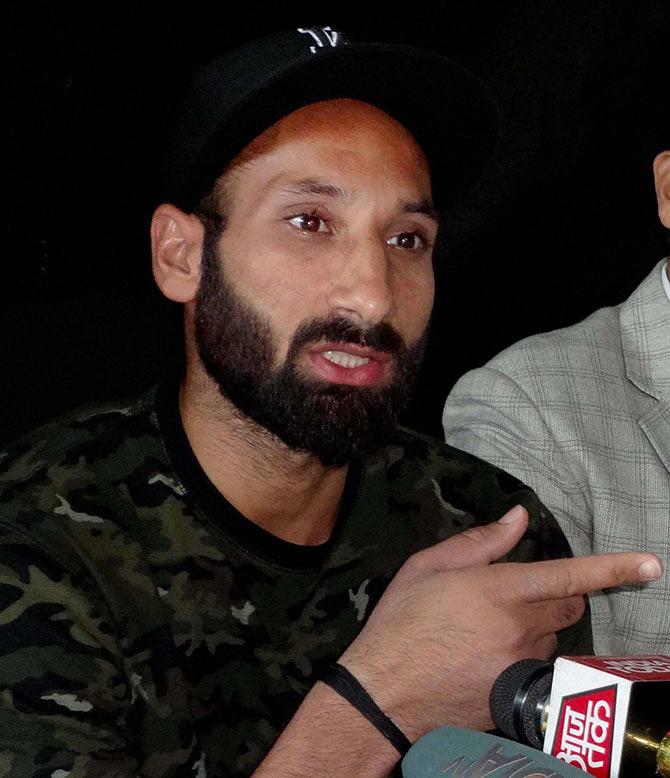 IMAGE: Indian hockey team captain Sardar Singh addressing the media in Chandigarh.Photograph: PTI.
Hockey India sought ten weeks' time to respond to the Delhi Commission for Women's notice on the allegations of sexual harassment against hockey captain Sardar Singh but firmly threw its weight behind the Indian captain by questioning the complainant's 'belated' charges.
In a letter to DCW Chairperson Swati Mahliwal, Hockey India said since the national team has a six-nation Tournament followed by the Olympic Games, it would be able to send a comprehensive response on the matter only after August 23.
"We shall provide you with a detailed response once the team is back from Brazil and after ascertaining and verifying all the facts as stated by you in your notice dates June 14, 2016," Hockey India said.
"It is obvious that the complaint has been filed at a belated stage. Therefore we would like to verify all the facts and only after the verification will be able to respond to the notice issued by you," it added.
The woman, in her complaint, has alleged that Sardar physically abused her after promising to marry her. Sardar, on his part, has denied the allegations.