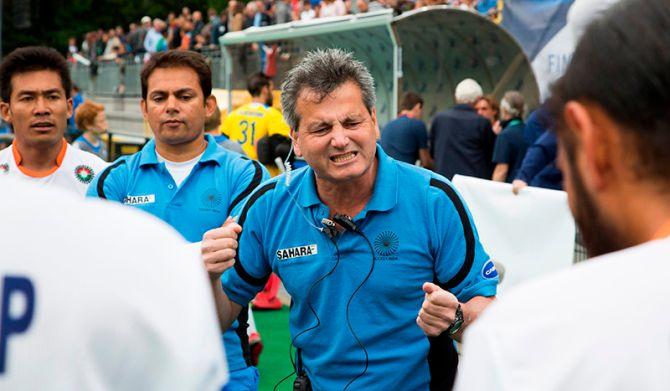 India hockey coach Paul van Ass talks to the players. Photograph: Hockey India
Barely five months into the job, uncertainty looms large over Paul van Ass continuing as chief coach of India's men's hockey team.
Current and former India players feel the Dutchman's absence could prove detrimental to the team's preparation for the 2016 Olympics.
Van Ass's future with the Indian team is in serious doubt after he failed to report on time for the national team's camp that began at the scenic Sports Authority of India (SAI) centre in Shilaroo, Himachal Pradesh, on Sunday.
The theory that the Dutchman won't be continuing as the coach gathered steam when he failed to submit his report on India's performance at the recently-concluded World Hockey League semi-finals in Antwerp, Belgium.
According to media reports, the temperamental Van Ass had a public spat with Hockey India president Narinder Batra after the quarter-final match against Malaysia at the World League semi-finals.
Reports said after the match Batra entered the field of play and had a word with the players, at which Van Ass intervened and asked him to leave the field, which did not go down well with the Hockey India president.
With Van Ass's future in doubt, a senior member of the national team said at the end of the day it is the players who suffer the most in the frequent changing of coaches.
"It (change of coaches) definitely affects us. It affects our training, our performance, our preparation (for the Rio Olympics). It takes time for players to build rapport with a coach. It takes time to understand and then adapt to a coach's style. So if the chief coach is changed frequently every other day it is bound to affect our performance," a senior member of the national team said.
"Under Terry Walsh we had trained for nearly one-and-half years. He got settled and got used to his style of hockey, our performance started to get better. We also qualified for the Olympics under Walsh but then he suddenly left (for some reason). It's been hardly 4-5 months that we started training under Van Ass and now there are talks that he is not coming.
"The Olympics is just a year away and this sort of uncertainty is only going to hamper our preparation," he said.
The player said Van Ass has not communicated anything either to the coaching staff or the players.
"He (Van Ass) has not communicated to us. We are in total dark about him. This is a short camp so it won't be a major problem but we need to think about the long run," he said.
The ongoing camp at Shimla will continue till July 3.
Ashok Kumar, former international hockey player and son of the legendary Dhyan Chand, said it is an unfortunate situation which the national team find itself now but feels Hockey India needs to believe in a coach.
"Not doubt our Olympic preparation is in jeopardy after this development. These days, people have big egos in hockey and cannot tolerate criticism. Now-a-days we don't debate on our performance in public forum which was prevalent earlier," he said.
"What I feel is that Hockey India needs to believe in a coach and not put question mark. There is short time left for the Olympics, we must believe in the coach," said Kumar, a member of India's bronze medal-winning side in the 1972 Munich Olympics.
Captain of India's 1975 World Cup-winning side in Kuala Lumpur, Ajit Pal Singh, however, feels Van Ass is accountable to his employers and can't just keep things in uncertainty.
Ajit Pal said Van Ass's has contractual obligations and must inform his employers whether he is joining back or not.
"Van Ass's has signed a contract; he is not in India for holiday so he just can't sit without informing anyone. He has to reply to the Sports Authority of India or Hockey India whether he is joining or not."
He said if Van Ass quits, High Performance Director Roelant Oltmans should be given the charge of the team till the Olympics instead of appointing another chief coach.
Van Ass's predecessors Jose Brasa, Michael Nobbs and Terry Walsh, all of whom were hired by SAI on the recommendations of Hockey India at hefty salaries, left the country on an unceremonious note.
The World League semi-finals in Antwerp, earlier this month, was Van Ass's only second assignment with the team.