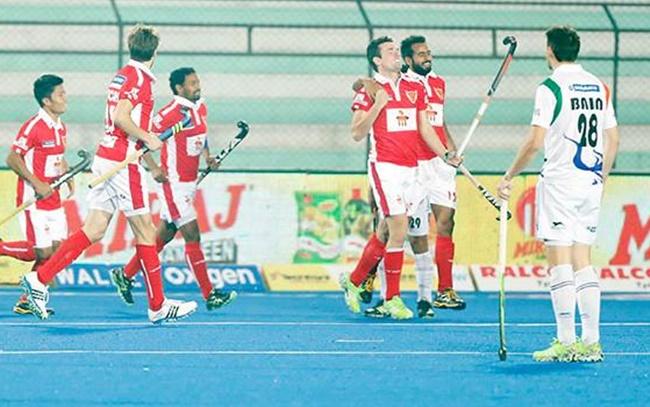 IMAGE: Dabang Mumbai players (in red) celebrate. Photograph: HIL
Dabang Mumbai caused a 2-1 upset win over hosts Uttar Pradesh Wizards in the Hockey India League (HIL) match, in Lucknow, on Saturday.
This was the Mumbai side's second consecutive win after a series of losses, at the Major Dhyanchand Stadium.
Fresh from their stunning win in their last game against Ranchi Rays, Mumbai started their campaign on an attacking note.
Dabang Mumbai played with a lot of confidence and their attacking game soon yielded results through a stunning field goal from Johan Bjorkman in the 8th minute giving the visitors an early lead of 2-0 over Uttar Pradesh Wizards.
Wizards, who have so far lost all their home games, came back strongly after this early jolt with a series of well-planned attacks but David Harte made no mistakes in foiling all attempts from the hosts to score.
Uttar Pradesh Wizards kept pressing hard and were rewarded with a penalty corner in the 14th minute, which was duly converted by Argentine Gonzalo Peillat, helping the home team earn a much-needed goal in the match.
The Wizards trailed Dabang Mumbai by a goal with the score board reading 1-2 in the visitors' favour. The second quarter saw some spectacular moves from the forwards of both teams but some crucial saves from the goalkeepers at both the ends ensured that the first half got over with the score remaining unchanged at 1-2 in favour of Dabang Mumbai.
The second half began with Dabang Mumbai pressing hard to capitalise on their lead, but some brilliant interceptions from the Wizards defensive line coupled with outstanding saves from PR Sreejesh foiled all attempts from the visitors to score.
Dabang Mumbai showcased top class defence as some strong attacks from the hosts were successfully defended by the visitors. The rest of the match saw a lot of close chances but the goalkeepers at both ends were in top form denying either sides a goal. This is the fourth consecutive loss for the Uttar Pradesh Wizards on their home turf.
With this win the Dabang Mumbai have 14 points in their kitty from six matches, and are currently placed at the bottom of the points tally.