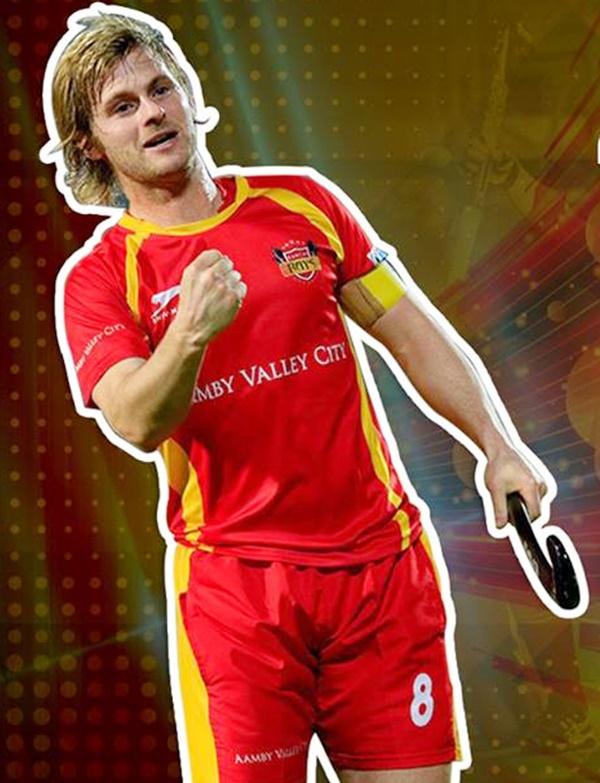 IMAGE: Ranchi Rays's Ashley Jackson celebrates. Photograph: Facebook
Ranchi Rays came back from a bitter loss in their previous game to clinch a remarkable 7-3 win over table toppers Dabang Mumbai in the Coal India Hockey India League in Ranchi on Thursday.
It was Ashley Jackson (5' and 49'), Mohd Amir Khan (16') and Imran Khan (57') who ensured the home team earned five points from the match.
The clash between the hosts and Dabang Mumbai involved everything that makes for a top-class match with both teams attacking each other to ensure there was never a dull moment for the packed stadium.
The first quarter saw both teams get off to an enterprising start. It was Dabang Mumbai's captain Florian Fuchs who came up with a superb goal in only the 2nd minute of play when he improvised a shot at goal after Kieran Govers assist. Ranchi Rays' Jackson struck in the 5th minute to equalise and make it 2-2. It was a clever-thinking Manpreet Singh who made no mistake in finding Jackson, inside the circle, who made the goal look like a breeze with a perfect deflection that beat Mumbai's experienced goalkeeper David Harte.
Ranchi Rays came back from the first break looking determined to put pressure on the visitors and they did just that when they took the lead in the 16th minute. It was Flynn Ogilvie who came up with an excellent run on the counter attack, showcasing brilliant dribbling skills. The 23-year-old Mohd Amir Khan kept up with his pace and a perfect pass by Ogilvie saw Amir put the ball past Harte with ease.
Though Ranchi Rays had an opportunity to make the score read 5-2 as they won their first PC in the 26th minute, the flick by Trent Mitton was well-saved by Harte.
Affan Yousuf put a goal past Tyler Lovell in the 51st minute taking the score to 5-3 when Harmanpreet Singh's dragflick was converted.
Ranchi Rays continued to be dominant with another field goal in the 57th minute when Imran Khan put one past Harte after an assist by Sarvanjit Singh to make it 7-3.