Tennis bad boy Lleyton Hewitt and TV soap star Bec Cartwright, Australia's version of "Becks and Posh", were married on Thursday in a harbourside ceremony at the Sydney Opera House.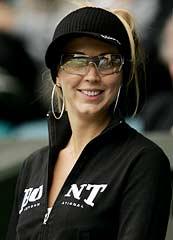 With tabloid newspapers and magazines trumpeting the union as a love match, dozens of paparazzi and journalists staked out the Opera House and an upscale Sydney hotel where up to 200 guests gathered before the private ceremony.
Security guards helped keep photographers at bay but cameramen in a helicopter flying over the Opera House caught glimpses of Cartwright, five months pregnant, in a white babydoll-style dress.
Australian media reported that guests had been asked to sign confidentiality agreements and were not allowed to take mobile phones or cameras.
Opera House staff said the wedding party would enjoy a cruise on Sydney Harbour before gathering at the waterfront Taronga Zoo for the wedding reception.
The fiery Hewitt has had an uneasy relationship with the Australian media, which has feted him for his success on court but has also criticised his ultra-aggressive style which was typified by a spiteful Davis Cup clash with Argentina last week.
The pair have been portrayed as Australia's version of "Posh and Becks" -- British pop star Victoria "Posh Spice" Beckham and her England soccer captain husband David Beckham -- since their whirlwind romance began late last year.
Hewitt, number two in the world tennis rankings and a former Wimbledon and US Open champion, proposed to 21-year-old Cartwright after losing the Australian Open final to Russian Marat Safin in January.
Cartwright starred in the popular Australian series "Home and Away" but has lately followed Hewitt on the tennis circuit.