Del Potro comforts stricken Almagro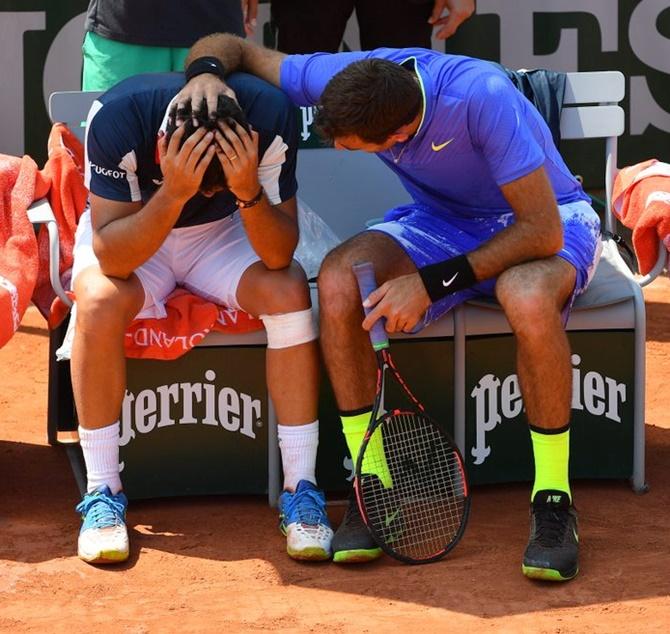 IMAGE: Juan Martin del Potro comforts Nicolas Almagro. Photograph: French Open/Twitter
Juan Martin del Potro offered a wailing Nicolas Almagro a shoulder to cry on at Roland Garros on Thursday after the Spaniard's French Open campaign was cut short by a knee injury.
After splitting the first two sets, the second-round match was evenly poised at 1-1 in the third when Almagro simply could not bear the pain in his knee anymore.
Covering his face, the sobbing 31-year-old bent over behind the baseline before collapsing onto his back.
That prompted Del Potro, whose own career has been blighted by a string of injuries, to climb over the net and offer some comfort to his stricken opponent.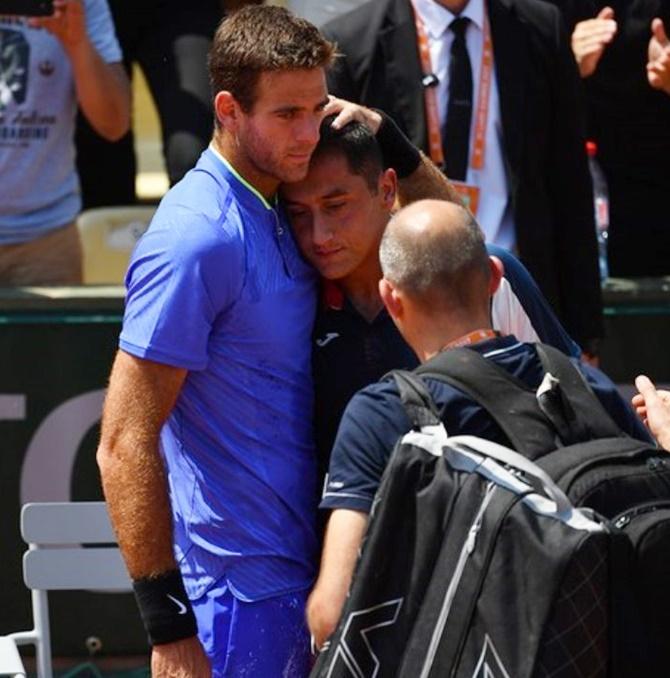 Del Potro helped his sobbing rival back to his bench and after Almagro had smashed a bottle of water onto the ground, the Argentine packed the Spaniard's bag and rubbed his head for a couple of minutes -- prompting a standing ovation from the crowd.
"I tried to find the right words at that moment. I said 'try to think of your family and your baby," Del Potro, who could have retired from Thursday's match because of a groin problem, told a news conference.
"I think he has everything to fix this problem and come back on the tour."
The knee injury is proving to be problematic for Almagro as it also forced him out of last month's Italian Open.
Argentine 29th seed Del Potro will next face world number one Andy Murray -- if he is fit.
He is only playing in his third Grand Slam event since the 2014 Australian Open, having been hampered by a succession of wrist injuries.
"Today I got lucky because I felt not good enough in my body," he said. I felt something in my groin in middle of first set.
"I now have one and a half day to feel better. I'd like to play at 100 per cent because I feel good with my game."