'I learned that you have to be really prepared for every match, because players who get here, they play on a very high level and every match will be a battle'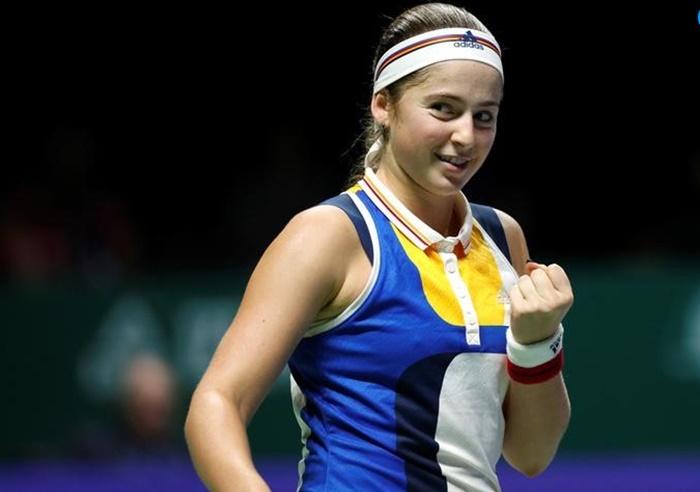 IMAGE: Latvia's Jelena Ostapenko celebrates winning her group stage match against Czech Republic's Karolina Pliskova. Photograph: Edgar Su/Reuters
Jelena Ostapenko enjoyed a winning end to her season with a 6-3, 6-1 triumph over Karolina Pliskova in her final White Group match at the WTA Finals on Thursday and vowed to return as a better player after her first taste of the event.
The 20-year-old Latvian rode her high-risk strategy to a stunning French Open victory in June to help qualify for Singapore but round-robin defeats to Garbine Muguruza and Venus Williams left her with only pride and prize money to play for against the Czech.
Ostapenko seemed unburdened in her final match against an opponent who had already advanced to the semi-finals with two early victories but admitted she was now aware of how high the standard of play was at the elite eight-woman tournament.
"I learned that you have to be really prepared for every match, because players who get here, they play on a very high level and every match will be a battle," the world number seven told reporters.
"I mean, it's great to be here. It's my first time and hopefully there will be plenty more. But, yeah, I'm really happy that I had a chance to play here."
Ostapenko won many admirers in Singapore with her expressive on-court mannerisms echoing her situation in matches and after stomping her way through a couple of tough losses, the Latvian had a spring in her step against a flat-footed Pliskova.
"It was my last match so I really tried to enjoy every moment. I think I was quite relaxed, and was able to show my best today," she added. "I also played much better than in the other two matches.
"I had a great season this year, especially winning the French Open. Next year, I'm just going to have good time off now and make good preparation and just come back stronger."
"Of course my mom will be my main coach next season but maybe we will try some options of working with another coach, but I don't know yet."