Sleep, lucky monkey help Russia's Mustafina win
IMAGE: Aliya Mustafina of Russia celebrates after competing in the Women's Uneven Bars Final on Day 9 of the Rio 2016 Olympic Games. Photograph: Alex Livesey/Getty Images.
With the help of a toy monkey and an afternoon nap, Russia's Aliya Mustafina finally ended the US women's stranglehold on gymnastics in Rio by winning the asymmetric bars for a second successive Olympics, with a routine full of grace and power.
It was a triumphant comeback by the 21-year-old, who has struggled with knee problems and missed last year's world championship with chronic back pain.
"The main thing is I managed to pull myself together after my injury, after the break, and deliver," said Mustafina. "It was painful, difficult, but I made myself work."
She told reporters she carries a toy monkey for luck, a present from her boyfriend, and arrived four hours early for Sunday's competition to allow time for a quick sleep before performing.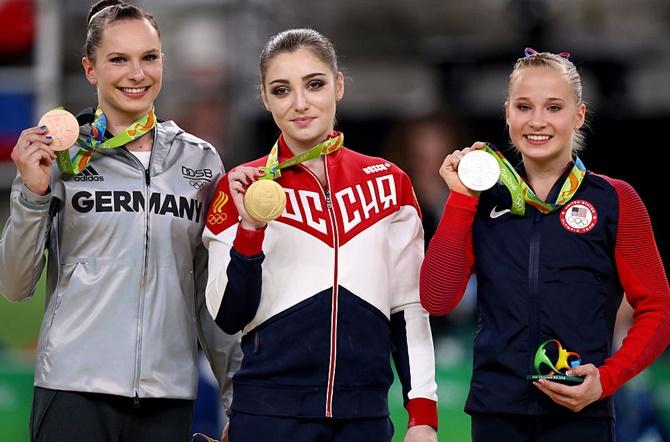 IMAGE: Bronze medalist Sophie Scheder of Germany, gold medalist Aliya Mustafina of Russia and silver medalist Madison Kocian of the United States pose for photographs on the podium at the medal ceremony for the Women's Uneven Bars. Photograph: Ryan Pierse/Getty Images.
Until Mustafina mounted the bars, the United States had swept the board in gymnastics, as Simone Biles scooped the team, all around and vault golds.
In the only final not featuring Biles, her team mate and world champion Madison Kocian had hopes of continuing the American gold rush, as she had earned the highest score in qualifying.
But, landing with her feet slightly apart, she could not beat Mustafina's score of 15.900 and had to settle for silver.
Germany's Sophie Scheder burst into tears after claiming a surprise bronze.
Gabby Douglas, the 2012 all around champion, failed to add to her tally of three gold medals from two Games as a slight hesitation during a transition element on the higher of the two bars left her seventh out of eight finalists with a score of 15.066.