The Frenchman, who won nine trophies in two-and-a-half years, suggested it is events off the pitch, rather than on it, that made him leave.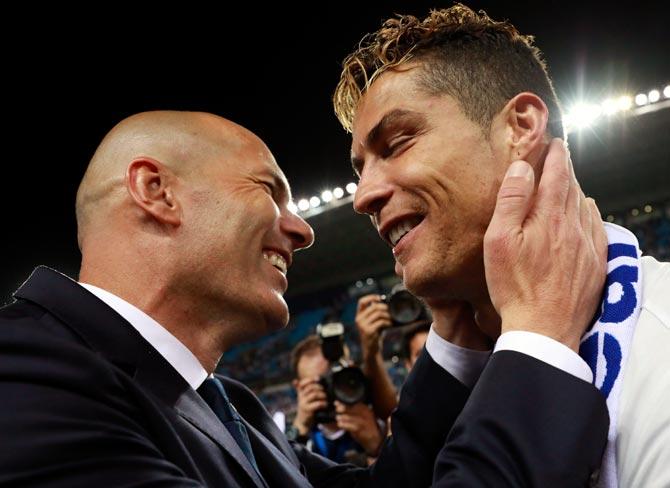 Just as he did as a player, Zinedine Zidane the coach has stepped away at the top.

Five days after leading Real Madrid to an unprecedented third consecutive Champions League crown, the Frenchman announced he was leaving the job.

Zidane said it was because he has taken the Spanish club as far as he can, but, scratching beneath the surface, he may well have left just when they need a major upheaval.

After the 3-1 victory over Liverpool on Saturday in Kiev, forwards Cristiano Ronaldo and Gareth Bale told reporters they are considering their futures at the club.
It is plausible that at least one of the duo will leave and that could have a huge effect on the dressing-room.

The speculation linking Brazilian Neymar with Real will not go away and that will pose further questions within the squad.

"The players need a change. I want to thank them because it's them who fight on the pitch," Zidane said. "I do not forget the hard times, as well as the good times, and that makes you reflect."

While there have not been many tough times on the pitch, off it speculation and controversy at a politically-charged club like Real is never far away.

Yet they have still achieved something which may never be done again. If they are to continue the winning streak, Zidane believes they need a new voice and after lifting nine trophies in two-and-a-half years, he has a point.

"There comes a moment when you think 'what more can I ask of them, after what they've done for me'?," he said.

While the idea of upheaval might sound churlish given no team had ever won two Champions Leagues back-to-back, let alone three, there are issues within an ageing squad.

Key players like Sergio Ramos, Ronaldo, Karim Benzema, Luka Modric, Keylor Navas and Marcelo are all aged 30 or over. A changing of the guard needs to happen at the Bernabeu and that will be something that is easier said than done.

Zidane has managed to massage Galactico-sized egos, spinning multiple plates during his spell at the helm, but ultimately he suggested it is events off the pitch, rather than on it, that made him leave.

"I'm not tired of coaching, but it's the time for me to step aside," he said.