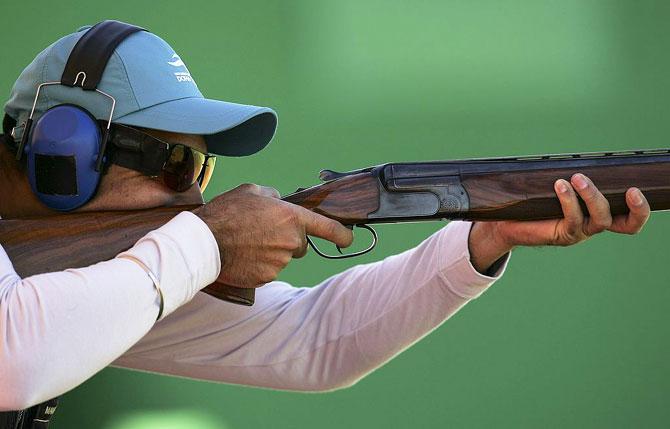 IMAGE: Manavjit Singh Sandhu. Photograph: McDonald/Getty Images
Indian shooters Manavjit Singh Sandhu and Kynan Chenai were placed 17th and 19th after the first day of the men's Trap qualification at the Olympic Games in Rio de Janeiro on Sunday.
Sandhu and Chenai had scores of 68 and 67 respectively in the three rounds, in a field of 33 shooters, on Day 1 of the event, with each athlete taking 75 shots.
Sandhu scored 23, 23, 22, while Chenai posted 22, 23, 22 in the three rounds at the shotgun range in Olympic shooting centre.
After the completion of the first round, Sandhu was placed 14th while Chenai 28th.
The former improved a place with a score of 46 in the second round, while Chenai too rose to 16th with a score of 45.
The duo will return on Monday for the second day of qualification where there will be two more rounds of 25 targets each.
At the top, Fabbrizi Massimo of Italy was the only shooter to produce a record score of 75, while Great Britain's Ling Edward and Italian Pellielo Giovanni were placed second and third respectively with 73 each.
Top six shooters after Day 1 (Men's Trap qualification)
1. Massimo Fabbrizi - Italy (75)
2. Edward Ling - Great Britain (73)
3. Giovanni Pellielo - Italy (73)
4. Josip Glasnovic - Croatia (72)
5. David Kostelecky - CzechRepublic (72)
6. Roberto Schmits - Brazil (71).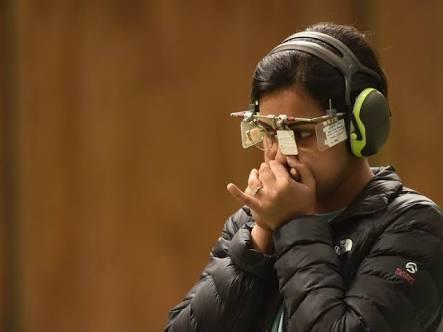 IMAGE: Shooter Heena Sidhu of India. Photograph: Facebook.
Earlier in the day, Heena Sindhu crashed out of the 10m Air Pistol women's qualification round.
Heena was way behind the leaders in the qualifying round, finishing 14th in a field of 44 shooters.

The 26-year-old 2010 Guangzhou Asian Games' silver medalist shot an overall 380, which included 13x.

Russia's Vitalina Batsarashkina topped the qualification round with a score of 390 points, including 14x.
The 26-year-old Heena will now try to make amends when she competes in 25m pistol, schedule to be held on August 9.
Heena, who finished 12th in her maiden Olympics in London 2012, failed to recover from a poor start and became the fourth Indian shooter to be eliminated in day two of the competition.
The cut for the eight team finalists was applied at 384 with seven closest to the centre circle which was shot by Sonia Franquet of Spain.
The 2010 Commonwealth Games gold medallist began with a poor 94 in the first series. She improved her scoring by one point to finish with a score of 95 in the second series but only to lie at 26th position. She scored 96 and 95 in the next two series and bowed out.
On Saturday, the duo of Apurvi Chandela and Ayonika Paul failed to qualify in the women's 10m air rifle event.
Apurvi, a World Cup Final silver medallist and Commonwealth Games gold winner, finished 34th with a score of 411.6 while Ayonika ended up 43rd with a final score of 407.
Jitu Rai made the final in the 10m air pistol but lost after by finishing eighth.
Gurpreet Singh, the other shooter in the 10m air pistol, placed 20th in a field of 46.