'They (coaches) taught me smash, dribble and net game in copybook style and I trained five to six hours daily to master them'
'Rio is an ideal place to showcase my game'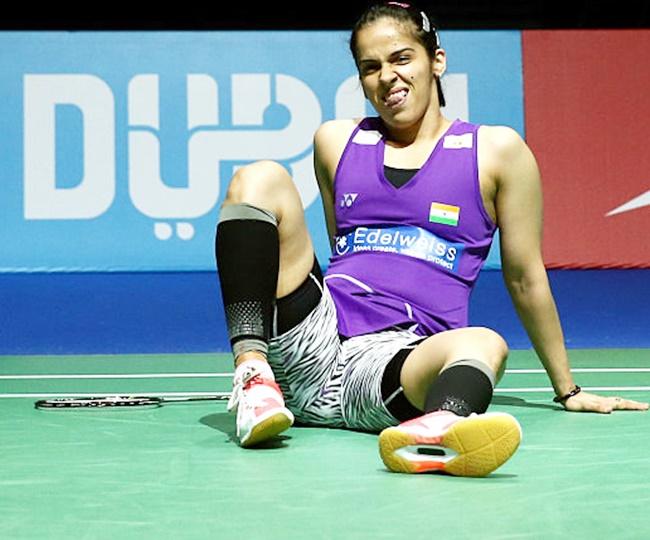 IMAGE: India's Saina Nehwal reacts. Photograph: Warren Little/Getty Images for Falcon.
Saina Nehwal eschews the 'natural talent' tag thrust upon her by Indian media and says only hard graft and good coaching have given her the chance to turn the Olympic badminton bronze she won four years ago in London into gold at the Rio Games.
"Whatever I am today, it's because of my coaches," Nehwal said in an email interview following her victory at the Australian Open last week.
"They taught me smash, dribble and net game in copybook style and I trained five to six hours daily to master them.
"I am a worker and my coaches know how to get the best out of me," added the 26-year-old, who became the first Indian shuttler to win an Olympic medal in 2012.
While winning a medal in London was celebrated back home in success-starved India, her rise to the top of the world singles rankings in April last year was no less significant.
It marked the first time a non-Chinese shuttler sat atop the women's singles rankings since Dane Tine Baun in late 2010.
Nehwal, who will be 30 by the time the 2020 Olympics come around in Tokyo, believes Rio is her best chance of gold.
"For 2020?, it depends on my progress and health conditions. Rio is an ideal place to showcase my game," she said.
"You can't predict results. You need hard work and God's blessing, apart from support from the fraternity," the world number six said.
Rio will mark a third Olympics for Nehwal, who is hitting a rich vein of form at exactly the right time.
Her second Australian Open title saw her beat world champions Ratchanok Intanon (2013) and Wang Yihan (2011) before overpowering China's Sun Yu in the final in Sydney.
"It is wonderful to win Australian Open prior to the Olympics. It is very satisfying to beat two world champions and a junior world champion (Malaysian Goh Jin Wei) in one tournament," she said.
It was a welcome win for Nehwal, who had failed to reach a World Superseries final since last November in China and was returning from an Achilles injury she sustained at the end of last year.
"The injury was a big jolt to me ... I missed South Asian Games, Indian Grand Prix and the (badminton) Asian team championship.
"It was mid-May when I felt I was good enough to play tournament. It was a horror, looking at my condition those three months."