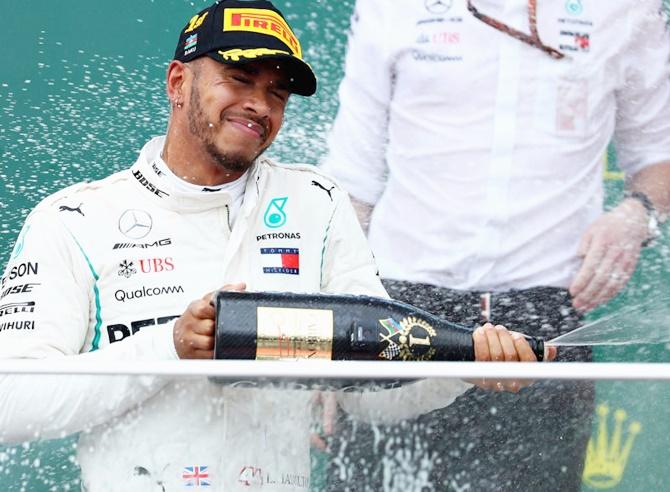 Lewis Hamilton celebrated one of the luckiest wins of his career on Sunday after a crash-strewn and chaotic Azerbaijan Grand Prix that catapulted him into the lead of the Formula One world championship.
The surprise victory, after team mate Valtteri Bottas suffered a puncture with three laps left while leading, ended a six race drought for the four times champion dating back to last October.
It was the first victory of the season for champions Mercedes.
In a race where the safety car again played a major part, with a series of crashes and smashes, Kimi Raikkonen finished second for Ferrari while Mexican Sergio Perez was third for Force India.
Ferrari's Sebastian Vettel, who had led the championship before Baku and looked to be on course for a 50th career win and third out of four this season, started on pole position but finished fourth.
Hamilton now has 70 points to Vettel's 66.
"It was quite an emotional race. Valtteri did an exceptional job and deserved to win, Sebastian also did a great job so it feels a bit odd to be up here," commented Hamilton on the podium.
"Definitely an untidy race for me."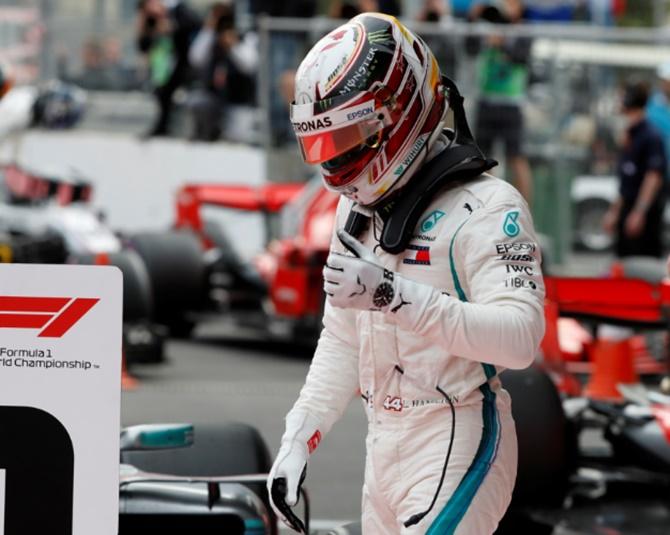 The Briton had started on the front row for the first time since he took pole in the Australian season-opener but never looked like winning until Lady Luck removed both Vettel and Bottas from the equation.
"It was such a crazy race, such an exciting race...to come out with a win, I feel incredibly grateful," said Hamilton, who went to commiserate with Bottas after parking up his car at the finish.
Spaniard Carlos Sainz was fifth for Renault with Monegasque rookie Charles Leclerc sixth for Sauber, his first points in Formula One.
New Zealander Brendon Hartley was also celebrating his first point after taking 10th for Toro Rosso.
McLaren, who had their worst qualifying of the season on Saturday, ended up with a double points finish -- Fernando Alonso seventh and Stoffel Vandoorne ninth.
Canadian teenager Lance Stroll, third in Baku last year, finished eighth to give struggling former champions Williams their first points of the year.
Only 13 cars finished the race.
Red Bulls collide in Azerbaijan Grand Prix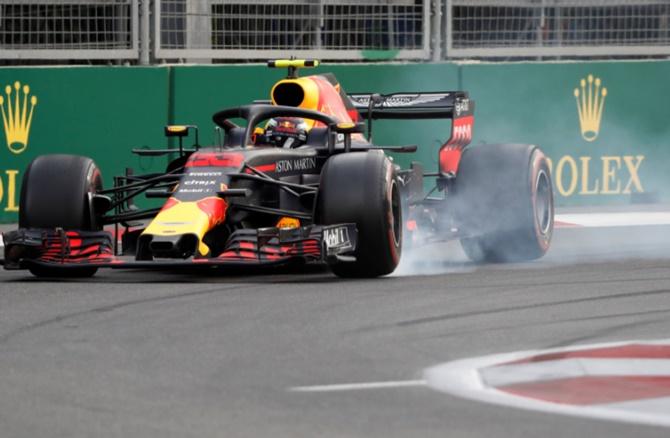 Red Bull Formula One drivers Max Verstappen and Daniel Ricciardo collided in Sunday's Azerbaijan Grand Prix while running fourth and fifth, putting both out of the race.
Australian Ricciardo, the race winner in China two weekends ago and in Baku last year, smashed into the back of his 20-year-old Dutch team mate's car while attempting to overtake on the 40th of 51 laps.
The incident brought out the safety car for the second time in the race.