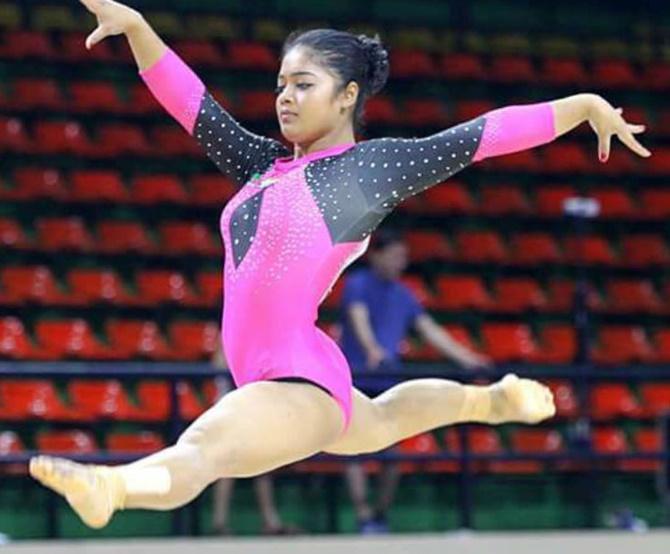 Putting up a dismal show, world cup medallist gymnast Aruna Reddy failed to qualify for the final round but a 'lucky' Pranati Nayak made the cut in vault event of the women's artistic gymnastics in the Commonwealth Games on Friday.
Pranati Das also qualified for final of all round events.
Nayak finished eighth in the vault qualification round while Das was 18th in the all round qualifying event.
At the end of the four sub division competitions in vault, Nayak actually finished ninth but she made it to the final round of eight gymnasts as the top-three spots were occupied by Canadians.
Under rules, only two from a country can qualify for the final round.
Reddy, who had scripted history by winning a bronze at the Gymnastics World Cup in February, finished 11th in the qualification and has been placed as second reserve for the final round.
A reserve player gets a chance to play if a competitor pulls out.
Reddy has also been placed as the first reserve for the all round event final.
Eight gymnasts will compete in the vault final round on Sunday while 18 will vie for the podium in the all round event on Saturday.
In the women's team event, India -- comprising Nayak, Das and Reddy -- finished seventh out of eight countries.
On Thursday, in men's events, Rakesh Patra qualified for the rings final to be held on Sunday while Yogeshwar Singh made it to the all round final to be held on Saturday.