After becoming the first Indian woman gymnast to qualify for the Olympics, Dipa Karmakar has set her eyes on a podium finish at the Rio Games, in August.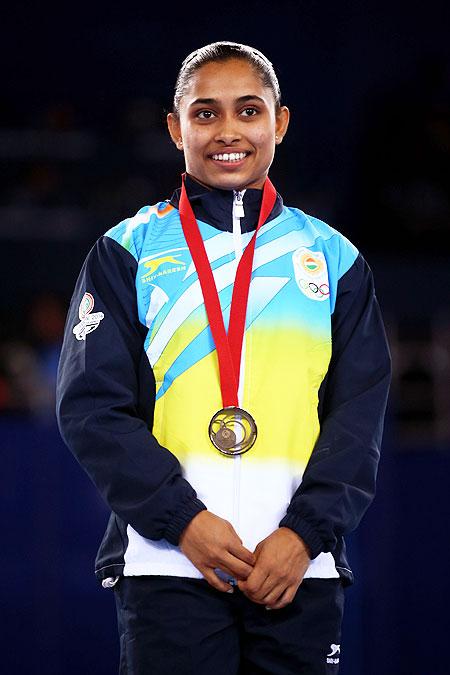 The 22-year-old garnered a total score of 52.698 points at the final Olympics qualifying and test event in Rio de Janeiro on Monday to book a berth for artistic gymnastics event.
- Gymnast Karmakar records another historic feat, wins gold in vaults
- Tendulkar heaps praise on Olympic bound gymnast Dipa
- Dipa Karmakar creates history, first Indian gymnast to qualify for Olympics
"It is a good feeling to win a gold medal," Dipa was quoted as saying on the official Facebook page of the International Federation of Gymnastics.
"My next objective is an Olympic medal podium," she said, after clinching gold in the vault finals at the test event.
The Tripura girl registered 14.833 as her best effort to finish first in the women's vaults finals at the Rio Olympic Arena.
She defeated 2008 Olympic silver medallist Oksana Chusovitina of Uzbekistan.
Apart from being the first Indian woman, she will also be an Indian gymnast qualifying for the quadrennial extravaganza after 52 years.
Only 11 Indian male gymnasts have taken part in the Olympics (two in 1952, three in 1956 and six in 1964) in Independent India. This will be a first for an Indian woman at the Olympics.
Karmakar also got a shout-out from Prime Minister Narendra Modi on Tuesday.

"Just yesterday, a daughter of India brought fame to the country at the Rio Olympics," the PM said, addressing students at Shri Mata Vaishno Devi University in Jammu, referring to the qualifying event that allows Karmakar to claim her place at the Olympics.

"These incidents set examples, give us strength," he added.
Image: Dipa Karmakar
Photograph: Julian Finney/Getty Images