Grandmaster Vidit Santosh Gujrathi came good when it mattered most and defeated Marius Monalache of Romania to emerge as the best performing Indian in the Cappelle La Grande International Chess tournament that concluded in Cappelle La Grande, France.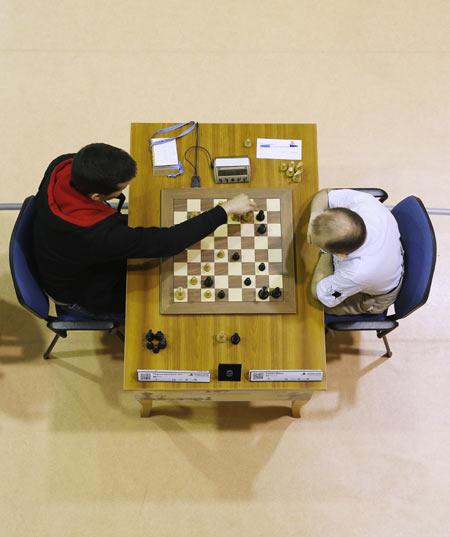 Ending on 6.5 points out of a possible nine, Gujrathi tied for the fourth spot along with compatriots Sandipan Chanda and G N Gopal, who both drew there final round games.
Top seed Li Chao of China won the tournament with a classic and memorable victory over Mikhail Ulybin of Russia.
The Chinese Grandmaster, the lone member of the 2700 club here, tied for the first spot with Vladimir Onischuk of Ukraine but had the better tie-break to claim the trophy.
Onischuk, defeated Vladimir Burmakin of Russia in his last round game.
The third place was shared by Vladislav Nevednichy of Romania and Tazbir Marcin of Poland, who both ended up on seven points each and then the Indian trio of Gujrathi, Chanda and Gopal was part of a long tie for the fourth spot on 6.5 points each.
For the record, as many as 18 players tied for the fourth spot. The tie-breaker here was not of much relevance as the prizes were divided according to Hort system.
Gujrathi stepped up when it was really needed and also remained unbeaten throughout the tournament. The Indian played the final round game with white pieces and gave little chance to lower-ranked Monalache.
Chanda employed the queen pawn opening but could not dent the confidence of Kaido Kulaots of Estonia. The middle game was slow and the Indian settled for a draw after trying for some time.
Among other Indians in the fray, highest rated Abhijeet Gupta did some damage control by beating Shirazi Kamran of France.
Gupta finally found his touch after a few games and now moves to Iceland to take part in the traditional open.
Sahaj Grover also won his first game in six matches at the expense of Swede Tom Rydstrom. Playing black, Grover was under some pressure but eventually outplayed his opponent.
S Arun Prasad was held to a draw by Theodor Kenneskog of Sweden while V Vishnu Prasanna, S Kidambi and M R Venkatesh ended their campaign on a high, winning the last round game against the French trio of Anda Safaranska, Bruno Marchyllie and Jean-Jacques Labadie.
Important and Indian results of final round (Indians unless specified): Li Chao (CHN, 7.5) beat Mikhail Ulybin (RUS, 6.5); Vladimir Onischuk (UKR, 7.5) beat Vladimir Burmkin (RUS, 6); Alexandr Fier (BRA, 6.5) drew with Vasilios Kotronias (GRE, 6.5); G N Gopal (6.5) drew with Kamil Dragun (POL, 6.5); Sandipan Chanda (6.5) drew with Kaido Kulaots (EST, 6.5); Vidit Santosh Gujrathi (6.5) beat Marius Monalache (ROU, 5.5); Shirazi Kamran (FRA, 5) lost to Abhijeet Gupta(6); Tom Rydstrom (SWE, 5) lost to Sahaj Grover (6); S Arun Prasad (5.5) drew with Theodor Kenneskog (SWE, 5.5); V Vishnu Prasanna (5.5) beat Anda Safaranska (FRA, 4.5); Bruno Marchyllie (FRA, 4.5) lost to M R Venkatesh (5.5); Jean-Jacques Labadie (FRA, 4) lost to S Kidambi (5).
(This image is used for representational purposes)
Photograph: Francois Nel/Getty Images