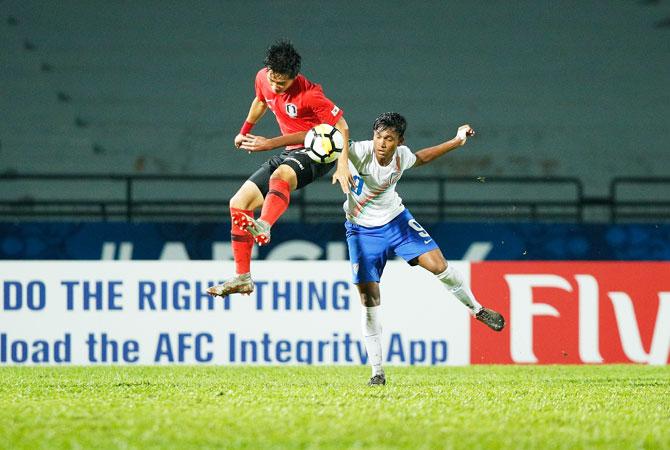 The Indian football team failed to qualify for the FIFA Under-17 World Cup after it suffered a narrow 0-1 defeat at the hands of heavyweights South Korea in an AFC U-16 Championship quarter-final match in Kuala Lumpur on Monday.
The Indians, playing in their first quarter-finals of the tournament in 16 years, put on a fight but the Koreans were too good for them.
The Koreans, one of the title contenders, dominated most part of the match but scored just one goal through Jeong Sangbin in the 67th minute.
The four semi-finalists from the AFC U-16 Championship qualify for the 2019 FIFA U-17 World Cup to be held in Peru. India had taken part in the 2017 FIFA U-17 World Cup by virtue of being the host team.
Despite Monday's loss, the Indians will return with their heads held high as they lost to a much superior team. They also conceded just one goal in the tournament.
Indian goalkeeper Niraj Kumar was once again brilliant under the bar with some fine saves.
In the 14th minute, Niraj was called into play when he made an excellent save to deny the Koreans from taking the lead. He then made two back-to-back saves in the 34th and 36th minutes to keep a clean slate for his side.
The Indians defended deep in the first half as the Koreans pressed for an early goal.
Just minutes before the first half, Ravi Rana's shot from a distance forced the Korean custodian to make a decent save as both the teams went into the breather goalless.
After the change of ends, the Indians emerged with much vigour and almost caught the Korean defence napping in the 52nd minute when Ridge De Mello's first-time volley earned a decent save from the opposition custodian.
Two minutes later, Korea gave India a scare when a free-kick attempt rattled the Indian bar and went out of play. In the 64th minute, Niraj once more made a fantastic diving save to deny the Koreans from close range.
The Indian defence finally gave way in the 67th minute when Jeong Sangbin tapped in from close range after goalkeeper Niraj had palmed a venomous shot away. India thus conceded a goal after 337 minutes in the tournament.
In search of an equaliser, the Indians initiated some attacks but the Korean defence line held firm. Vikram Partap proved to be a threat down the flanks but for all his possession around the box, could not create a clear goal scoring opportunity.
In 2002 also, India had lost to the same opponents by 1-3 margin.
The Indian side had progressed to the quarter-finals after finishing runners-up in Group C with five points from three matches.