Quality is the watchword at this week's Chevron World Challenge where 18 of the game's best players will be vying for supremacy in a $5 million event hosted by Tiger Woods.
Simply qualifying for the elite field is an achievement in itself with every player at Sherwood Country Club ranked inside the world's top 50.
"This is definitely a way you want to finish off your year," American Sean O'Hair said on Tuesday while preparing for Thursday's opening round. "You do that, you know you're doing something good.
"It's a limited field ... but it's the best players so you're going to have to play good golf. It's just nice. You're competitive but it's somewhat relaxed. I'm excited to be here and be a part of the field."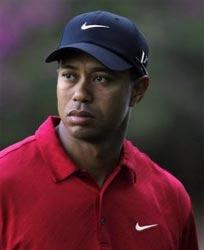 Woods, who will be competing in his own event for the first time in three years, expressed delight over the quality of the players assembled at Sherwood this week.
"Our field is the deepest, the strongest it's ever been," the American world number two told reporters after working on his putting in front of the imposing clubhouse.
"We're really looking forward to getting out there and hopefully putting on a good show."
A four-times champion here, Woods missed the 2008 World Challenge while recovering from knee surgery and last year's edition after being engulfed by a torrid sex scandal.
Although yet to win this season while coping with the break-up of his marriage and the fourth swing change of his career, he retains his renowned appetite for victory.
"My goal is to win every tournament I tee it up in and be prepared for every event," said Woods, who was replaced as world number one by Britain's Lee Westwood earlier this month.
"But that does entail right now learning a new golf swing that requires a lot of work, some new motor patterns. It's not exactly easy, but it's a fun challenge."
WINNING WAYS
While Woods has lost the aura of golfing invincibility he once enjoyed, O'Hair expects his fellow American to return to winning ways.
"He went through a lot personally and he's obviously disappointed with his year," said three-times PGA Tour champion O'Hair. "He's got a lot of good goals and he's working hard on his game.
"Next year I fully expect him to play his normal Tiger game. You want to beat the best and you want to play with the best and he's definitely the best."
This week, 10 of the world's top-15 players will be vying for supremacy over the Jack Nicklaus-designed layout at Sherwood.
The line-up includes second-ranked Woods, fellow Americans Steve Stricker (fifth) and Jim Furyk (sixth) and British duo Paul Casey (seventh) and Ian Poulter (eighth).
Straight-hitting Furyk will be defending the title he won by one shot over Britain's Graeme McDowell last year.
Proceeds from the invitational event go to Tiger Woods Foundation projects and the Tiger Woods Learning Center in Anaheim.
The full field is: Woods, Furyk, Stricker, Nick Watney, Casey, Rory McIlroy, Luke Donald, Matt Kutchar, Dustin Johnson, McDowell, Poulter, Hunter Mahan, Zach Johnson, Anthony Kim, Bubba Watson, O'Hair, Camillo Villegas and Stewart Cink.