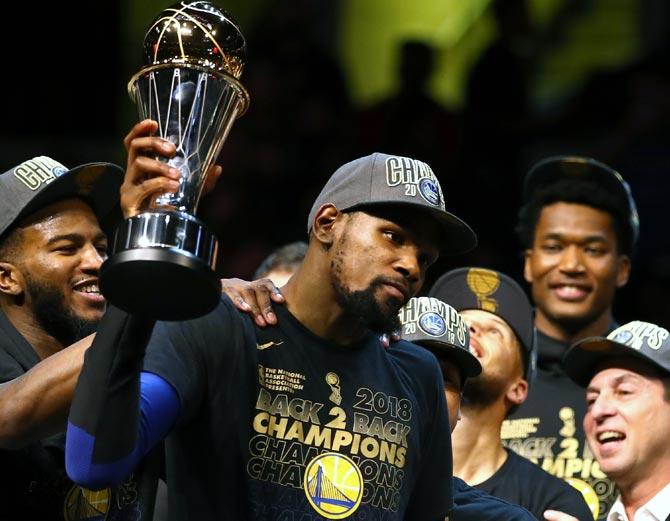 Kevin Durant picked up his second consecutive NBA Finals Most Valuable Player award on Friday along with another championship but that does not mean the Golden State Warriors forward is content.
Durant, the engine behind the Warriors' offensive juggernaut, averaged 28.8 points, 10.8 rebounds and 7.5 assists per game as his team needed four games to dispose of the LeBron James-led Cleveland Cavaliers in the NBA Finals.

"I think I've got a lot more to go," Durant told reporters. "I'm just trying to prove to myself that I could just stay in it for the long haul, and hopefully I continue to have some success. Just keep growing as a player. That's my only concern."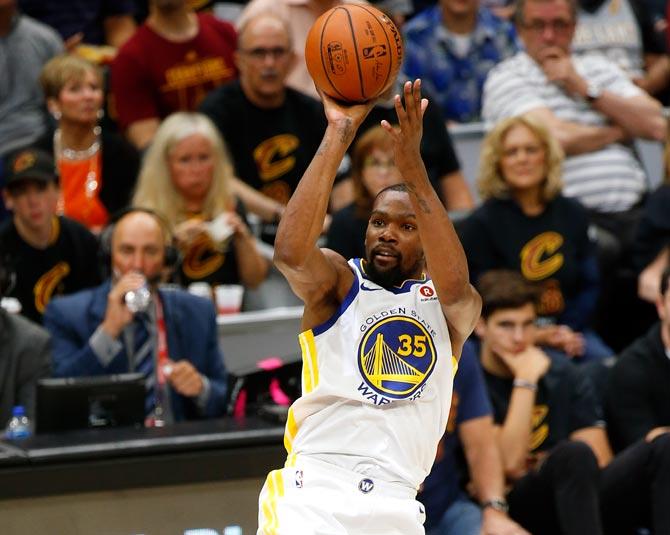 Durant scored 20 points while registering a triple-double in the series clincher but his efforts will be remembered mostly for the playoff career-high 43 points he scored in a pivotal Game Three that all but sealed the title.

Rather than allow Cleveland a chance to breathe new life into the series, Durant stepped up and sent the Cavaliers into a 3-0 hole that no NBA team has ever come back from.

"It's just about the journey, all season," said Durant. "Getting up every day, going to work with these guys, it's amazing.

"The environment is incredible. It's good for you to be around guys like this. It helps you become a better basketball player and a better man."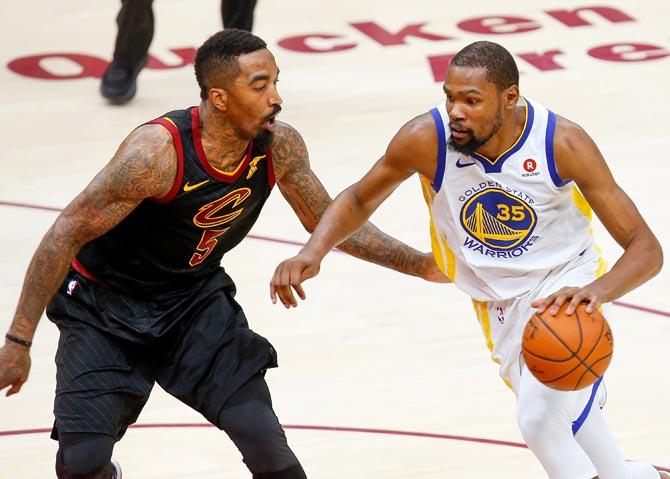 Durant was criticised by many for joining an already-stacked Warriors team in 2016 but it is hard to question the move after watching how seamlessly he has fit in.

He ripped out the hearts of Oklahoma City Thunder fans when he left for the Oakland-based Warriors, which many considered the easiest route to an NBA title.

Durant said at the time the leadup to his decision was the most challenging few weeks of his career but after the success he has enjoyed over the last two seasons he is not about to second guess his move.

"Whether it's opponents, whether it's different coaches panning for us, whether it's the fans, the media that hate us, it feels good when you're the team that everybody's gunning for," said Durant.

"It makes us better. It makes us come to work and try to play at that championship level every single day, and that's the hardest part."