Top squash player Saurav Ghosal is eagerly awaiting his home state government's recognition after bagging a historic gold and silver for India at the Incheon Asian Games.
Ghosal got India's first ever silver medal at Asiad by reaching the singles final before helping the team win a memorable gold last week. Though Tamil Nadu government have already announced a Rs 30 lakh cash reward, he is yet to hear from the Bengal government.
"The last few days have been crazy and it would be nice if the government acknowledges what we have managed to achieve. The local MP came to my house and he said there will soon be a felicitation ceremony in the presence of the Chief Minister," Ghosal said.
Ghosal is a resident of South Kolkata's Mandevila Gardens area and it was local MP Subrata Mukherjee, who visited his residence.
The World No 16 said the pain of losing the singles final will remain but he redeemed himself in the "best possible way" by winning gold in the team championship with India stunning Malaysia 2-0.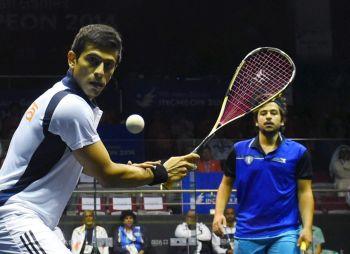 "The pain has lessened with the result in team event but I still consider the singles loss to be a failure. It was a great match and I was in a great position to win it but the comeback from my opponent was just incredible. He played the squash of his life to win it," said Ghosal, referring to his loss against Kuwait's Abdullah Almezayen from a position where he was leading 2-0 and had a match ball in the third.
The 28-year-old, however, was pleased with his overall performance in the mega event where India pocketed medals in all four categories on offer, making its best-ever performance at the Asian Games.
"I think I managed to maintain a high level throughout the Games even in the final. It is just that Abdullah produced something special on that day," said Ghosal, who got his revenge against Abdullah later, in the team semi-finals against Kuwait.
Talking about the way ahead for Indian squash after the highs of Asian Games and Commonwealth Games, he felt the recent success should be used to spread the game across the country.
"This is the time for ramping-up activities. We need to have more centres like Chennai to be able to have more kids playing the game. It is not possible for all to move to Chennai. As far as the current pool of players are concerned, I would love to see four-five players in the top 50s," he added.
Image: Saurav Ghosal
Photograph: PTI