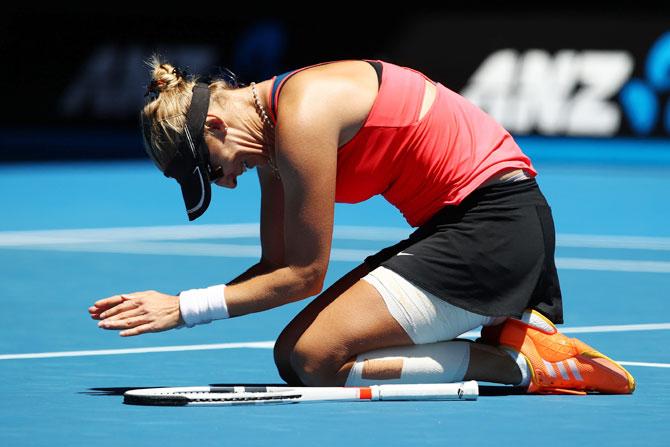 IMAGE: Mirjana Lucic-Baroni of Croatia celebrates winning her quarter-final match against Karolina Pliskova of the Czech Republic on day 10 of the 2017 Australian Open at Melbourne Park on Wednesday. Photograph: Clive Brunskill/Getty Images
Croatia's Mirjana Lucic-Baroni could barely contain her joy after reaching the Australian Open semi-finals on Wednesday, 19 years after her only previous singles match win at Melbourne Park prior to her remarkable run.
Her march to the last four has been powered by the sheer grit and determination the world number 79 has built up over years of struggle both on and off the court, leaving her forced to start from the bottom when she returned to the game in 2008.
After a promising start to her career that saw her reach the main draw of the US Open at the age of 15 and the semi-finals at Wimbledon in 1999, personal troubles, including alleged abuse from her father, sent her into a tailspin.
"I know this means a lot to every player to reach the semi-finals. But to me this is overwhelming, I will never, never forget this day and this last couple of weeks," she said, fighting back the tears.
"This has truly made my life and everything that happened okay.
"The fact I was this strong and could fight this hard is incredible. I kind of want to be known as amazing fighter, a person who persevered against everything, against all odds. And that's what I take pride in."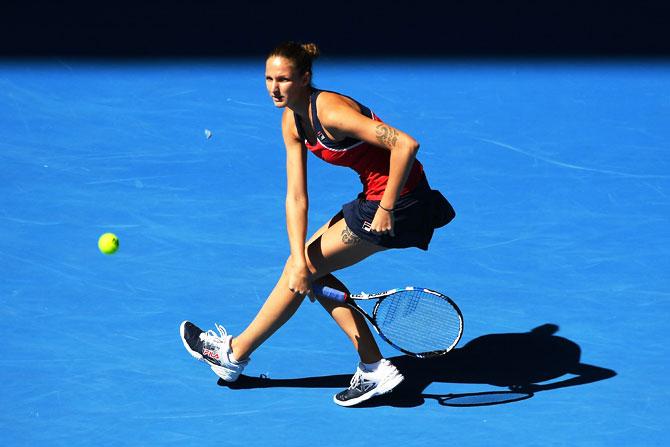 IMAGE: Karolina Pliskova plays a forehand return against Mirjana Lucic-Baroni. Photograph: Quinn Rooney/Getty Images
The 34-year-old did indeed show plenty of perseverance as she navigated her way through three sets against fifth seed Karolina Pliskova, looking every bit the battle-hardened warrior with her left leg bandaged in two places.
Lucic-Baroni's aggression saw her seal the first set in 32 minutes and she looked in control after a strong start in the second, but after Pliskova got a break back and took a medical timeout to fix strapping on her right foot the momentum shifted.
The fifth-seeded Czech ran away with the second set to level the match, and while she carried the momentum into the decider she failed to capitalize.
In what was far from a clean victory, the German-born right-hander lost seven service games and took an injury time out halfway through the third set, shattering Pliskova's momentum just as her opponent had gained an upper hand.
The revitalised Croat won 12-of-13 points on her return and hung a rosary around her neck before serving for the match then crossed herself in the Roman Catholic tradition after sealing victory.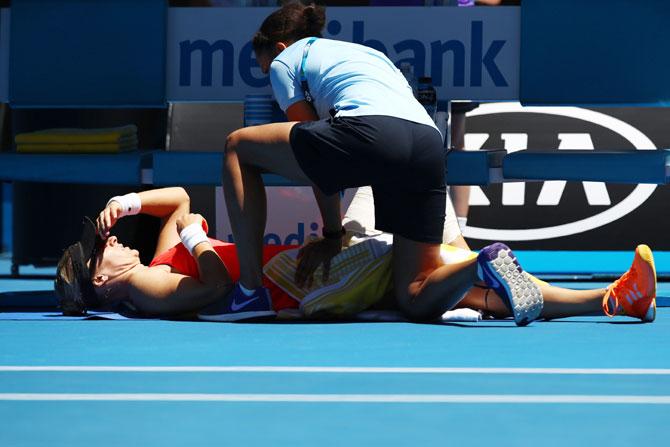 IMAGE: Mirjana Lucic-Baroni receives treatment during her quarter-final match against Karolina Pliskova. Photograph: Clive Brunskill/Getty Images
The incredible run almost came to an end on Wednesday when the pain got too much to bear for Lucic-Baroni, who played with heavy strapping around her left thigh and calf.
Trailing 4-3 in the deciding set, she took a five minute medical timeout and was still limping when she returned. But somehow she lifted her game to a new level, rattling off 12 of the next 13 points to race through the final three games and close out the match.
"I was really worried. I didn't know if I had it in me to finish it," Lucic-Baroni told reporters.
"I started hurting pretty bad mid-match, especially at the end.
"I was really concerned with my physical wellbeing at that point. And I just said to myself, 'They're either going to wheel you out. I'm not going to give up, just keep fighting'. And that was it."
"When I took the medical timeout, I wasn't really sure how I was feeling," she said.
"I felt in that moment only God can help me. It was just something I didn't think about. It was just something that helped me be strong."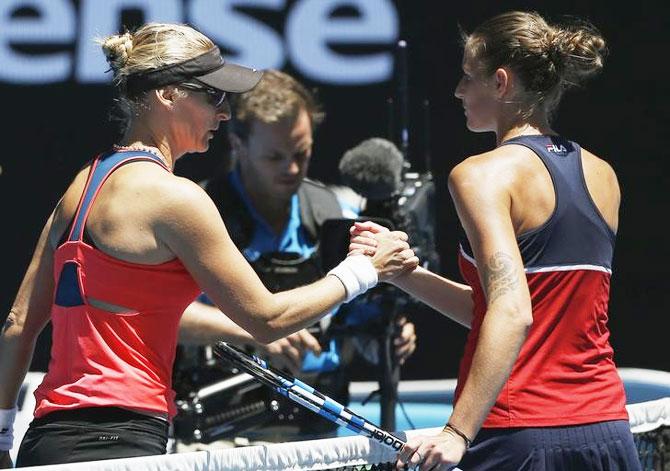 IMAGE: Croatia's Mirjana Lucic-Baroni is congratulated by Czech Republic's Karolina Pliskova at the net. Photograph: Issei Kato/Reuters
When Pliskova netted a forehand to signal the end of the contest, the Croatian clenched her fists, sank to her knees and sobbed.
"I can't believe this, this is crazy," she said.
Reaching the last four was beyond her wildest expectations.
"I can't believe I'm in semi-finals again. I feel a little bit in shock right now."
Despite her injuries, Lucic-Baroni was not concerned about having to face Williams on Thursday.
She has not had a moment's rest during the tournament anyway as she made the quarter-finals of the doubles with Germany's Andrea Petkovic.
"I'm going to recover, do some therapy, and I'll be fine," she said.
"I'll just put some extra tape on and hopefully it will hold me together."
Lucic-Baroni is well aware that the next fight will be the toughest of her tennis career.
"She's (Serena) a great champion," Lucic-Baroni added.
"I'm still in the tournament, and I want to remain kind of calm and focused and give another really good performance tomorrow."