German officials had concrete indications of a security threat that led them to call off Tuesday night's soccer game between Germany and the Netherlands, the premier of the state of Lower Saxony said on Wednesday.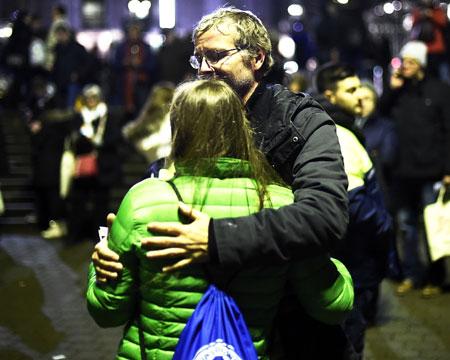 "There was a concrete indication about concrete dangers based on confidential and secret information," said Stephan Weil, premier of Lower Saxony, which is home to Hanover, where the match was called off two hours before its scheduled start on Tuesday.
German Chancellor Angela Merkel defended the decision to cancel a soccer match between Germany and Netherlands on Tuesday evening.
"I was just as sad as the millions of fans that the match was cancelled. But the security officials took a responsible decision," Merkel said in a brief statement to reporters on Wednesday.
"These are difficult decisions, perhaps the most difficult given the conflicting priorities of freedom and security. But yesterday it was right to decide based on security."
Security concerns were raised as the match was scheduled in Hanover just four days after Islamist attacks in Paris killed at least 129 people.
Image: People comfort each other shortly after the match between Germany and the Netherlands was cancelled following a bomb alert at the HDI-Arena in Hanover on Tuesday
Photograph: Alexander Koerner/Getty Images