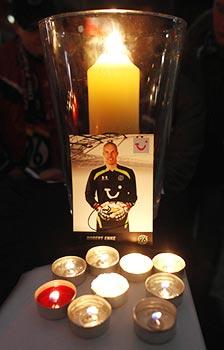 Germany and Hanover 96 goalkeeper Robert Enke has died after being hit by an express train in an apparent suicide near Hanover, local police said in Berlin on Tuesday.
"First indications point to suicide," a media officer for the Lower Saxony police said before adding Enke's body was found at a train crossing in Neustadt am Ruebenberge near Hanover.
"At 1825 (1725GMT) he was run over by a regional express train running between Hamburg and Bremen," said police spokesman Stefan Wittke. "The train was travelling at the speed of 160-kph."
The player's friend and consultant Joerg Neblung told reporters: "I can confirm this is a case of suicide. He took his own life just before six (pm). There will be a press conference tomorrow with more details."
Enke, 32, won eight international caps and was in the running to play at the World Cup in South Africa next year.
The news left Germans reeling and stunned the national soccer federation (DFB).
"The German team has learned of the death of Robert Enke with great shock," said the DFB in a statement. "National team coach Joachim Loew and manager Oliver Bierhoff said 'we are all shocked, we are speechless'."
Loew informed the squad of Enke's death in a hotel in Bonn ahead of their friendly match against Chile on Saturday in Cologne.
DFB president Theo Zwanziger said the federation is in mourning. "Our feelings go out to his wife and family," he said.
Enke, who had spells with clubs in Spain, Turkey and Portugal before signing for Bundesliga team Hanover in 2004, experienced a difficult time in recent months as he battled to secure his place in Germany's team.
STOMACH VIRUS
He missed the last three World Cup qualifiers with what turned out to be an energy-sapping stomach virus and had just returned to action after almost two months out.
"This is a tragedy," Hanover president Martin Kind told reporters.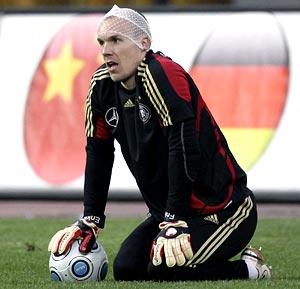 Despite not being called up for two friendlies against Chile and Ivory Coast this month, even after Bayer Leverkusen's Rene Adler pulled out with an eye infection, Loew had hinted Enke was still front-runner for the starting spot.
Enke, born in Jena in the former East Germany, also played club football for Borussia Moenchengladbach and Benfica and had a brief spell at Barcelona before stints with Fenerbahce and Tenerife.
His two-year-old daughter died of a heart ailment in 2006. The couple adopted a two-month-old girl in May.
"Germany loses an exceptional athlete and a sensitive man who was a role model for many," said Lower Saxony governor Christian Wulff.
Hundreds of fans gathered to light candles outside the Hanover 96 offices after learning of Enke's death.
"He was a brilliant man, a gentle man and he had this peace that he would project onto others," said Hanover 96 sports director Joerg Schmadtke. "We did not have any indications that he was going into that direction."
Hanover fan Florian Walter told Reuters Television outside the club offices: "This is a shock. He was an exceptional footballer. He was intelligent, educated, was very engaged with social projects in Hanover."
It is not yet clear whether Germany's friendly against Chile on Saturday will still go ahead.