Novak Djokovic showed glimpses of frailty along with his usual ruthless streak when he moved into the second round of the French Open with a 7-6(5), 6-4, 7-5 win over Belgium's David Goffin on Tuesday.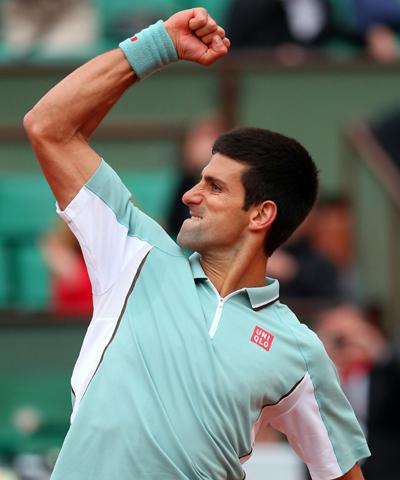 Paris's unseasonable downpours kept the world number one off court for most of the day but, after emerging into the early evening gloom, he encountered a talented shot-maker on the other side of the net.
Djokovic came through the first set tie-break thanks in part to the raucous Parisian crowd, whose efforts to inspire his young opponent with an ill-timed shout of "Allez David" at 5-5 on his second serve caused the world number 58 to double fault.
There was a battling quality about Goffin, who managed to break the Serb's serve in the second set and had a break point in the third before succumbing to the six-times grand slam winner.
Meanwhile, Frenchwoman Marion Bartoli did her best to lift the gloom hanging over a rainy Roland Garros on Tuesday after putting herself and the shivering home fans through agonies in a three-hour victory over Olga Govortsova.
The 13th seed scraped into the second round, clinching a 7-6(8) 4-6 7-5 win on her fifth match point after producing groans from the Chatrier crowd when she double-faulted on her first.
On a day when heavy rain shortened the programme, the twitchy Bartoli, full of ticks and eccentric mannerisms, could have been accused of hogging the stage as she made men's world number one Novak Djokovic wait for his grand entrance.
In the end, however, the crowd did not care as the French number one battled back from 5-3 down in the decider to move through to round two, saving two match points in the process.
"It shows that from a physical and mental perspective I've got the legs for three hours," Bartoli told reporters.
"But to be honest with you, I'd prefer to have won in two straight sets in an hour, but my opponent puts me on my back foot over such a long match.
Photo: Novak Djokovic of Serbia celebrates match point in his match against David Goffin of Belgium during day three of the French Open in Paris (Julian Finney/Getty Images)