'I thought it would be tough. But I served really well at important times of the match'
'I don't really like running. I don't like that my shoes get dirty. I don't train too much on clay as it makes my car dirty'
'It can be enjoyable. I play well on clay but it's not my favourite surface'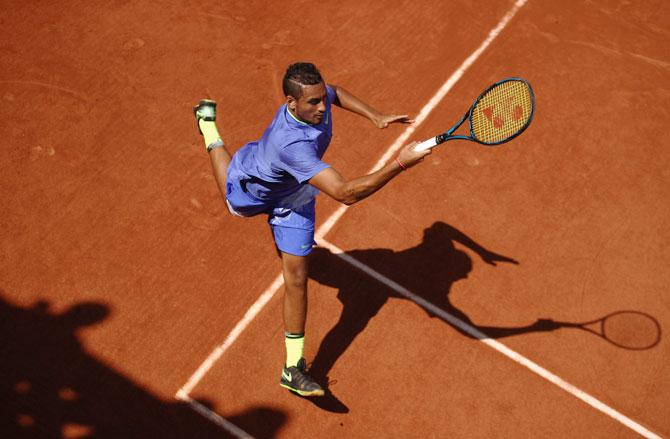 IMAGE: Australia's Nick Kyrgios plays a forehand during the men's singles first round match against Germany's Philipp Kohlschreiber on day three of the 2017 French Open at Roland Garros in Paris on Tuesday. Photograph: Julian Finney/Getty Images
Australian Nick Kyrgios shrugged off injury concerns and kept his emotions in check to outclass Germany's Philipp Kohlschreiber 6-3, 7-6, 6-3 on Tuesday, booking his spot in the second round of the French Open.
The 18th seed, notorious for his on-court tantrums, showed no signs of being hampered by the hip injury that forced him out of the Rome tournament earlier this month.
Kyrgios, who faces either South Africa's Kevin Anderson or Tunisian Malek Jaziri in the next round, has also been receiving treatment for a shoulder injury.
But the 22-year-old, considered among the most gifted players of his generation, fired a total of 20 aces, including six in the first set, which he claimed in 30 minutes.
"There were a lot of questions about how I would perform today," Kyrgios told reporters.
"I did not play many matches on clay and was not feeling that confident."
"I thought it would be tough. But I served really well at important times of the match."
A mini-break in the tie break was enough to hand him the second set as Kohlschreiber struggled with the Australian's whipped ground-strokes and repeated audacious drop-shots. Kyrgios, who sealed his victory on his first match point, recently teamed up with former French pro Sebastien Grosjean after years without a coach.
"To get to the top five and compete in the slams I need to have someone in my corner. It's time now to knuckle down," he said Kyrgios, whose quick and powerful game is more fitted to hard or grass courts than the French clay.
"I don't really like running. I don't like that my shoes get dirty. I don't train too much on clay as it makes my car dirty."
"It can be enjoyable. I play well on clay but it's not my favourite surface," he said.