Seeing the usually majestic Roger Federer down on his hands and knees -- literally -- is a rare sight in tennis but that turned out to be the least of his problems at the French Open on Sunday as he flirted with a last-16 exit.
Federer has not fallen before the quarter-finals at a grand slam for a decade but a nasty tumble in the sixth game of the second set against Gilles Simon sparked a sequence of events that threatened to deny him a 36th successive last-eight spot at a major.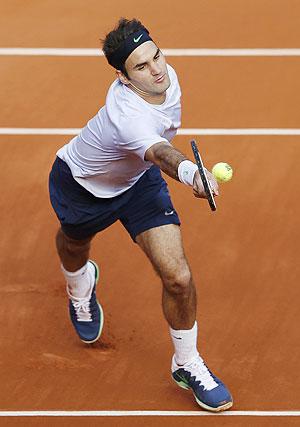 As it was, the Swiss master picked himself up off the clay, dusted himself down, lost the second and third sets before dousing the fireworks of the gallant Frenchman with a heart-pumping 6-1, 4-6, 2-6, 6-2, 6-3 win.
"I work hard to be exactly in this situation in a tough match where the crowd is going crazy and you want to stay calm within the storm. Honestly, for me it's what I play for," said Federer.
He can expect more of the same when he faces another Frenchman, Jo-Wilfried Tsonga, in the last eight. Sixth seed Tsonga won an entertaining encounter with Serbia's Viktor Troicki 6-3 6-3 6-3.
As Federer lived to fight another day, Spaniard Tommy Robredo proved there was more than one warrior among the 30-somethings.
Robredo survived a near four-hour test of courage and stamina to become the first player in 86 years to recover from a two-set deficit in three successive grand slam matches.
It was little wonder that after following up his escape acts against Igor Sijsling and Gael Monfils with a 6-7(5), 3-6, 6-4, 6-4, 6-4 win over compatriot Nicolas Almagro, emotions got the better of Robredo who broke down in tears and kissed the clay court that had turned into a 'dream' and 'nightmare' for him.
"Nobody dreams of doing such things. What one dreams of is to reach quarter-finals but not such a nightmare that is a five-setter," the iron man of this year's French Open said.
"What I accomplished was very difficult, very complicated. Three comebacks the way I did, it's amazing."
While Robredo slogged and sweated his way into the second week, fellow Spaniard David Ferrer made serene progress into the quarters.
UNFORGIVING MOOD
Fans had barely filed into a sun-soaked Suzanne Lenglen Court by the time the fourth seed was back in the locker room following a 6-3, 6-1, 6-1 demolition of South Africa's Kevin Anderson.
Serena Williams was also in an unforgiving mood.
As the reigning doubles champion at Roland Garros, Roberta Vinci arrived for the fourth-round showdown knowing that she had the game to hurt the World No 1 on red dirt.
Yet it was the Italian who was left aching all over as she was given the runaround for 70 agony-filled minutes before Williams ended the ordeal with a 6-1 6-3 win.
Vinci carries a stuffed orange dinosaur as a lucky charm but it failed to have the desired effect during a match in which her softly-softly approach appeared to belong to the prehistoric age - especially against an opponent whose game is built around raw power.
Such was Vinci's plight, those outside Chatrier Court might have thought she had actually won the match when she let out an almighty roar which reverberated around the vast, marquee-filled grounds at 2.17 p.m. local time.
As it was, all she had done was saved herself the ignominy of being whitewashed by winning her first, and only, game of the first set.
Waiting for Williams in the last eight will be another player eager to derail the top seed's pursuit of a 16th Grand-Slam title, 2009 champion Svetlana Kuznetsova.
That may well turn out to be Williams's first test of her title credentials as so far the 31-year-old American has dropped just 10 games in four matches in Paris.
Like Rafa Nadal, Kuznetsova missed the second half of the 2012 season with a knee injury and she warmed up for the challenging task ahead with a 6-4, 4-6, 6-3 win over German eighth seed Angelique Kerber.
The other quarter-final in the top half of the draw will feature Polish fourth seed Agnieszka Radwanska and 2012 runner-up Sara Errani.
Kuznetsova beat Williams en route to the title four years ago but is under no illusion about what it will take to beat a player who is on a 28-match winning streak.
"She's been playing unbelievable tennis," summed up the Russian. "But I believe that I have (my) game and my good days, as well. Let's cross fingers I will have a good day (on Tuesday)."
Federer also seemed to be enjoying a good day for the first hour of his contest against Simon as he repaid the deafening chants of "Allez Roger" by swaggering to a 6-1 3-3 lead, showing flashes of genius including a running forehand that curled around the net post.
However, when Federer stumbled on the final point of that sixth game, with his toe catching on the clay while he was sliding into a backhand, something shifted in the match.
There did not seem to be any lasting damage to his body as the Swiss quickly got back on to his feet but Simon then delivered the body blows over the next hour as he ran away with the next two sets.
But the man who has won a record 17 grand slam titles showed the poise that had carried him to 899 previous tour match wins and he rounded it off to 900 when Simon hit a backhand into the tramlines.
Photograph: Vincent Kessler/Reuters