A gale force in the shape of Roger Federer blew aside local favourite Gael Monfils 6-4, 6-3, 7-6 on a blustery Tuesday at the French Open as the Swiss set up a mouth-watering French Open semi-final with Novak Djokovic.
The world number three, who has yet to drop a set at Roland Garros this year, was the only one to breeze through as women's holder Francesca Schiavone and men's hopeful Andy Murray clawed their way back from the brink to progress.
Marion Bartoli gave the home crowd something to cheer about on a chilly day when she became the first Frenchwoman to reach the last four since Mary Pierce in 2005. She beat former champion Svetlana Kuznetsova 7-6, 6-4 on court Suzanne Lenglen.
But the main show was on Court Philippe Chatrier, where Federer outfoxed, outclassed and outplayed ninth seed Monfils with a series of booming forehands and sizzling backhands.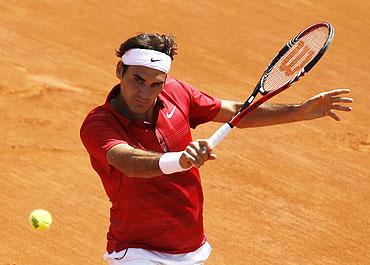 Federer was on the attack throughout, raising his game to a level previously unseen on the Paris clay when it mattered to thwart a clueless Monfils, who lost the final tiebreak 7-3.
"Playing against him is always difficult. I knew the stakes were high. He's young, he'll have more opportunities. I have to take the few that I still have," the 16-times Grand Slam champion, who won his only Roland Garros title in 2009, said courtside.
He conceded an early break with a double fault as the swirling winds turned the court into a dust bowl. But the 29-year-old did not allow Monfils to get carried away and broke the Frenchman twice to pocket the opening set in the 10th game.
Federer eased through the second set and was made to wait for the tiebreak to wrap up a routine win as Monfils ran out of steam and ideas.
Despite the showstopping performance he produced Tuesday, Federer will need to raise his level further if he is to defeat the seemingly invincible Djokovic, who is on a 41-0 streak in 2011 and advanced after being given a walkover into the last four.
Schiavone and Murray were not quite as authoritative.
Both were two points away from defeat but Schiavone reached the semi-finals with a 1-6, 7-5, 7-5 win over Russian Anastasia Pavlyuchenkova and British fourth seed Murray squeezed past Serbia's Viktor Troicki 4-6, 4-6, 6-3, 6-2, 7-5 to advance to the last eight against Argentine Juan Ignacio Chela.
Schiavone struggled to cope with the windy conditions on court Philippe Chatrier and was unsettled by the tactics of Moscow-based Pavlyuchenkova.
The Russian, who turned up wearing a long-sleeved outfit, hit long balls to frustrate the Italian fifth seed.
Pavlyuchenkova, who knocked out world number three Vera Zvonareva in the previous round, raced into a 6-1, 4-2 lead.
But with her back to the wall at 2-4 0-40 down in the second set, Schiavone's fighting instincts kicked in. With her grunting getting louder, the Italian's game gradually fell into place as she won six games in a row.
Pavlyuchenkova broke back for 5-5 in the third set, only for Schiavone to steal her serve again and end the contest with a backhand winner.
Schiavone will next face Bartoli as she looks to extend her Roland Garros winning streak to 13 matches.
TWISTED ANKLE
"I did not play good, I hope I will play better in the semi-final because this crowd deserve to see good tennis," Schiavone, who celebrated her win by rubbing some red clay on to her face, said in a courtside interviewer.
Murray, who twisted his ankle in the previous round, had looked hopelessly out of sorts when the match against Troicki started Monday as he had fallen 5-0 behind in just 18 minutes.
But despite his seemingly nonchalant attitude, he does not give up easily and after fighting back to level at two sets all when bad light stopped play on day nine in Paris, it was game on Tuesday.
The Briton, yet to win a grand slam title, kept his nerve even when things appeared to be getting out of control.
Troicki was left fuming after a ball boy had inexplicably run on to court during a rally when the Serb was moving towards the net for a smash in the sixth game.
Because of "movement during the exchange," umpire Pascal Maria ordered the players to replay the point and Troicki broke for a 4-2 lead.
He came within two points of victory when he led 5-3, 30-0 on his serve but made a string of unforced errors to let Murray back into the contest.
The 24-year-old Scot wasted three match points but a gravity-defying crosscourt backhand passing winner sent him through after almost four hours, with a possible semi-final clash against world number one Rafa Nadal or Swede Robin Soderling looming.