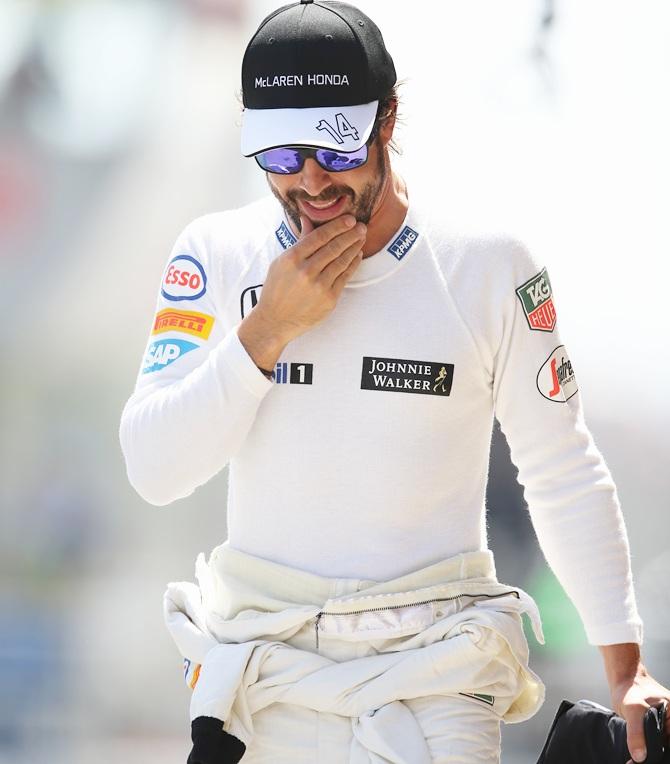 Fernando Alonso of Spain and McLaren Honda sports an alcohol company sponsorship. Photograph: Mark Thompson/Getty Images
Formula One was accused of sending out a mixed message on alcohol at the Monaco Grand Prix on Friday by giving extensive publicity to drinks brands while campaigning for road safety.
A report, published by European Alcohol Policy Alliance network Eurocare, highlighted what it called a "dangerous cocktail" and urged the sport to move away from such sponsorship.
"The amount of alcohol-related exposure in F1 settings is extreme by anyone's standards," said Eurocare general secretary Mariann Skar in a statement.
"There seems to be a lack of recognition within the F1 community about their responsibility when showing alcohol adverts every five seconds to an audience of 500 million viewers.
"We now urge the involved bodies in F1 to move away from alcohol sponsorship."
The report, whose authors include Britain's Institute of Alcohol Studies and Australia's MonashUniversity, analysed last year's Monaco Grand Prix for alcohol brand exposure.
It found viewers received an average of 11 references per minute over a two hour period.
Three teams -- Williams, McLaren and Force India -- have alcohol branding on their cars while Diageo's Johnnie Walker was named last year as Formula One's official whisky.
While Johnnie Walker's involvement with McLaren has been focused on responsible drinking and road safety, the brand is prominent on the car and features on trackside advertising around Monaco.
Williams have Martini as title sponsor while Force India, co-owned by Indian drinks tycoon Vijay Mallya, number Smirnoff Vodka, Kingfisher beer and India's Royal Challenge whisky among their partners.
"Alcohol sponsorship of motorsport generates seriously mixed messages about drink driving and road safety, and contradicts the spirit of current EU rules on alcohol advertising," said Katherine Brown, director of the Institute of Alcohol Studies.
"A commonsense approach would be to stop alcohol companies from this risky business of sponsoring Formula One."
Formula One has already had to kick its tobacco habit, although Philip Morris brand Marlboro remains a backer of Ferrari despite the absence of on-car branding.
Eurocare has made similar calls in the past for Formula One to abandon alcohol sponsorship, writing an open letter last year to Jean Todt, head of the governing FIA.
The Frenchman pointed out in reply that the FIA was committed to road safety through "a programme which of course includes a dimension relating to the prevention and penalising of drink-driving."