The uncertainty surrounding his dream of driving in next week's inaugural Indian Grand Prix notwithstanding, India's Karun Chandhok is determined to give his heart out in front of his countrymen in Friday's practice session for Team Lotus.
Karun, a reserve driver for Team Lotus who competed in Germany this year in place of Italian Jarno Trulli, is keeping his fingers crossed and hoping the Malaysian F1 outfit will give him the nod to drive at the Buddh International Circuit on the race day.
"You will definitely see me in Friday's practice session and there I will definitely give my best. But for the rest of the two days (qualifying and main race), we will have to wait and see," the Chennai-based driver said during a promotional event, in New Delhi, on Sunday.     "It's a complicated thing because there are contractual complexities as the team has to honour the two contracted race drivers. But from my side I would love to race (in Indian GP)" Karun, who was, on Sunday, named brand ambassador of Montra, first international standards carbon bike launched by TI Cycles of India.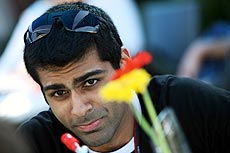 Team Lotus is struggling at the bottom of the standings and have not scored a point in nearly two seasons.
However, the Malaysian team is the best of the three new sides -- the other two being Hispania Racing and Virgin-Crossworth -- who made their debut in 2010.
And giving Karun a chance ahead of experienced drivers like Heikki Kovalainen and Trulli is seen as a risk by many, which only team principal Tony Fernandes can decide.
"Tony Fernandes has said many times that he would love to see it (Karun driving in Indian GP) happen. But at the end of the day, one has to understand that F1 is a business," Karun said.
The Indian driver was full of praise for the newly-constructed BIC, which will make its debut in F1 on October 30.
"The facilities here (BIC) are truly world class, top-notch. India can be proud of the circuit and to add to it F1 has great fan base in India," Karun said.
"It has got long straights, overtaking zone, elevation. There is for everyone in this circuit. But it will be challenge for the engineers," he viewed.
Karun was also optimistic about Sahara Force India's good showing at the Indian Grand Prix.
"They (Force India) will definitely score some points but Red Bull and McLaren will always have the edge in this circuit," he said when asked about Force India's chances.