"I think F1's best watched on TV," says Gul Panag speaking from a train on her way to Ambala to spend time with her parents. A little over twenty four hours ago, on Thursday evening, she compered the official opening ceremony for the Indian Grand Prix.
Friday morning she attended the First Practice session of the inaugural Formula One race, and despite being stunned by the sound of those engines on song, was off. "The initial excitement is something to experience, but following the entire race is something I'd rather do on TV."
She doesn't watch every single F1 race of the season -- "I'm not a fanatic like you" is the accurate if on-the-nose retort -- but if she's home on a racing Sunday, she's watching.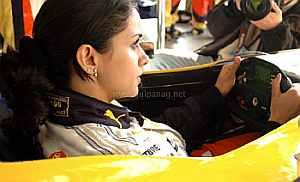 She's more than a spectator, this Gul girl. She's karted on ice in Finland, participated in the Volkswagen Polo Cup, and -- hold your breath and your envy here -- has actually driven a Formula One car.
That's right, folks. As a guest invited onto the Renault Formula One Experience, Gul's taken a 2007 Renault machine to the Le Castellet track in Marseilles, and hit 180 kmh. On Friday morning she fascinatedly spent a lot of time inside the pit garages for the Marussia Virgin team, looking at stuff up close and learning all she could.
And she's understandably a trifle disappointed to not have met Michael Schumacher at the inauguration event on Thursday evening.
"I thought all the drivers would be there, but it was an exclusive closed-door ceremony for the team management and a few corporates," she moans, promising she'll support Michael for the race "but the patriot inside me wants Force India to do really well. It's a huge deal that we have our own team. And Narain Karthikeyan too, I hope he's impressive on Sunday."
Photo Courtesy: gulpanag.net