Cricket legend Sachin Tendulkar, a self-confessed Formula One fan, has described waving the chequered flag at the end of the inaugural Indian Grand Prix here as a memorable experience in his life.
Tendulkar, who witnessed the race along with wife Anjali and daughter Sara, waved the chequered flag after double world champion Sebastian Vettel crossed the finishing line to win the race at the Buddh International Circuit.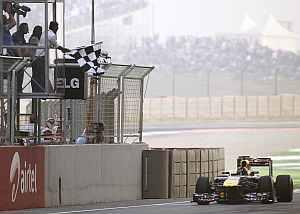 "What an experience it was to wave the chequered flag!!! Got to keep it as well!!!," Tendulkar wrote on his Twitter account.
He also praised the organisers, Jaypee Group, for the facilities at the circuit and the successful hosting of the race.
"Wonderfully organised F1 event by Jaypee. A world class track with excellent facilities for spectators. Truly a memorable day for all of us," he said.
Tendulkar was the cynosure of all eyes as he mingled with the who's who of motorsports, including F1 supremo Bernie Ecclestone, who himself had invited the star Indian cricketer for the race.
Tendulkar also met seven-time world champion and 'dear friend' Michael Schumacher and Mercedes team's other driver Nico Rosberg before the race.
He later joined the F1 fraternity in observing a minute's silence as a mark of respect to Dan Wheldon and Marco Simoncelli who recently died in tragic crashes in IndyCar and Moto GP races respectively.