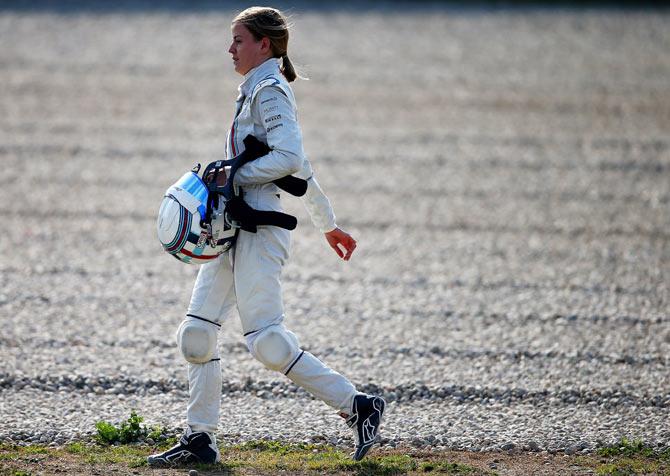 Susie Wolff of Williams and Great Britain. Photograph: Dan Istitene/Getty Images
Susie Wolff will be back at the wheel of a Williams Formula One car in Barcelona on Friday with little in the way of fanfare but a clear aim in mind.
Last year, the 32-year-old Scot made plenty of headlines in a similar practice session at Silverstone when she became the first female driver in 22 years to take part in a Grand Prix weekend.
This time, her presence at the Circuit de Catalunya comes 40 years after the only F1 race in which a woman has finished in the points -- Italian Lella Lombardi's sixth place at the shortened 1975 Spanish Grand Prix..
If Wolff has made it less of a novelty to see a woman on track along with the men in F1, at least on a Friday, her dream of becoming the first woman grand prix racer since 1976 remains tantalisingly out of reach.
"I have performed in the car, I have shown I am capable, I'm in a very competitive team, I drive a car which is capable of podium positions," she told Reuters in an interview before heading to Spain.
"So I do feel very, very close but in the same respect very far away.
"Because when they announced (Adrian) Sutil as the reserve at Williams, that was a clear sign that 'Yes, you're close but you are also still very far away'."
Williams started the season without a reserve but with Wolff, whose husband Toto is head of Mercedes motorsport and a Williams shareholder, as development driver with young Briton Alex Lynn.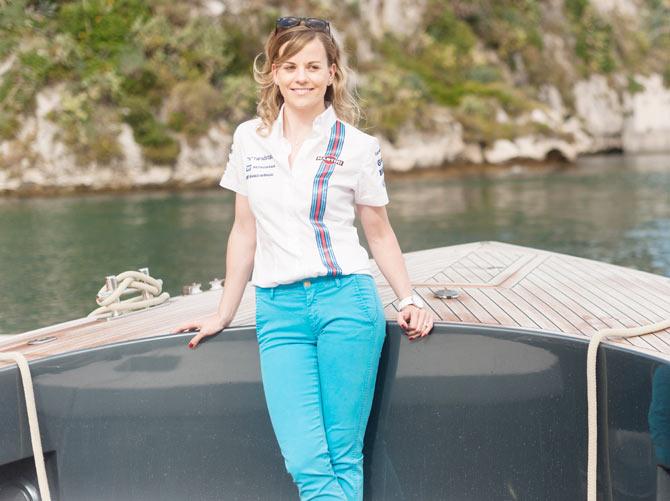 Susie Wolff. Photograph: Nick Howe/Martini via Getty Images
When Finland's Valtteri Bottas injured his back in qualifying and missed the Australian season-opener, the team appointed Sutil -- a veteran of 128 races -- and not Wolff who has only tested and taken part in two practice sessions so far.
She will test in Austria in June and drive again in practice at the British Grand Prix in July, following a fixed programme and putting in the laps.
It is important work, with Friday setup vital for Sunday's race, but Wolff wants more and time and circumstances are against her.
"We've made such big strides forward and that's a lot down to the team giving me the chance. They took a risk, took a chance and it worked out," she said. "So we are making strides forward but I still feel we've got a long way to go."
It will not get any easier, with a new points-based super licence system due to come into force next year that will make it harder for those who have not won junior or qualifying championships.
Wolff, who has not raced single seaters for a decade and would have no points, said it will be tough for any driver and not just women.
"To find the budget to go through all those formulas, to get into the right team so that you actually win the championship in those formulas, that is a huge task for any driver regardless of gender," she added.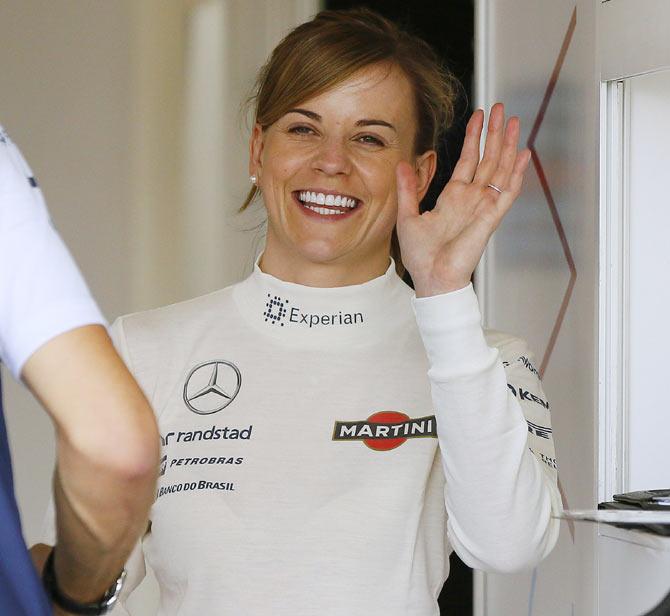 Susie Wolff. Photograph: Phil Noble/Reuters
"I hope it will get tweaked and adjusted... love it or hate it, but motorsport is not purely talent. It never has been and never will be."
While Lotus have appointed Spaniard Carmen Jorda as a development driver, she has yet to test a Formula One car and her role is seen within the sport as primarily a publicity ploy.
Colombian Tatiana Calderon, currently in European F3 with the Carlin team, looks the most promising of those on the horizon.
Wolff, who has faced mutterings that she owes her place in the team to gender and connections, said performance has always been what matters.
"It's all very well to talk about how it would be great to have a woman driver, a woman with sponsors and marketing, that's all great but to get into that drive you have to perform.
"That's what I realized early on when I got into Formula One."
A proposal by F1 supremo Bernie Ecclestone that women might have their own world championship gets short shrift.
"You can talk about it all you want but it's not going to happen," says Wolff. Lapping with the men, if only on a Friday, is where she wants to be.