Sauber's Mexican driver Sergio Perez cancelled his Indian Grand Prix media commitments due to illness on Thursday with doubts about whether he would be fit for Friday practice.
Sauber said Perez had a cold and a decision would be made on Friday with Mexican reserve Esteban Gutierrez, who has been tipped to move up to a race seat with the Formula One team next year, available as a stand-in.
Perez, 22, will replace Mercedes-bound Lewis Hamilton at McLaren next season.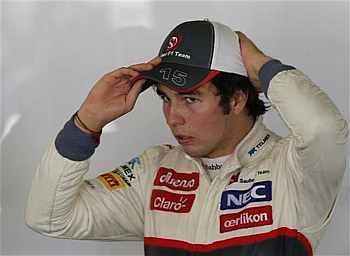 Gutierrez is due to take part in a young driver test after next weekend's race in Abu Dhabi, which would be only his fourth outing for Sauber since 2009.
Like Perez, Gutierrez is backed by Telefonos de Mexico (Telmex), the telecoms provider run by Carlos Slim Domit, whose father is the world's richest man.
The Swiss-based team have had four podiums this year and are currently chasing Mercedes for fifth place in the constructors' championship.
Photograph: Kim Kyung-Hoon/Reuters