Unsmiling assassin Lewis Hamilton killed off Red Bull's run of 16 pole positions in a row with the fastest lap in qualifying for McLaren at the Korean Formula One Grand Prix on Saturday.
The pole was the first for McLaren since Hamilton took the top slot in Canada in June last year, 27 races ago, and came in the team's 700th Grand Prix.
Red Bull's Sebastian Vettel, who became the sport's youngest double world champion in Japan last weekend at the age of 24, qualified second and 0.222 slower on a bright afternoon at the coastal circuit some 320km south of Seoul.
McLaren's Jenson Button was third and Australian Mark Webber fourth in the other Red Bull.
Hamilton's feat ended Red Bull's hopes of beating the record of 24 successive poles set by Williams in 1992-93 and also becoming the first team since Ferrari in 1952, when there were only seven grands prix, to take every pole in a season.
It also provided an immediate reply to those increasingly vocal critics questioning his state of mind and management in a nightmare season.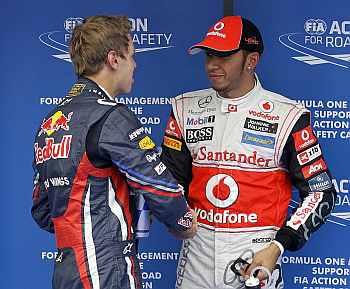 "It's probably one of the first positives I've had for a while," said a muted Hamilton, who has been absent from the podium in the past five races in a season full of crashes and controversies, of his 19th career pole.
"To be back on pole is a great feeling of course, but tomorrow's the most important day. I've had some difficult races in the past so we'll try and redeem ourselves tomorrow," he added.
The 2008 world champion, who has yet to finish a season behind a teammate but lags Button by 32 points with four races left, professed himself happy.
However he scarcely smiled and his voice reflected no great joy as he sat between Vettel and Button in the post-qualifying news conference.
"I am very proud of what the team have been able to achieve over the course of the last few races," said the Briton who has been out-performed by Japanese GP winner Button in the latter half of the season.
As the session ended, his race engineers congratulated Hamilton: "You are on pole, great job." The driver did not respond.
MANSELL RECORD
Vettel had been on pole for 12 of the previous 15 races and, despite the rare setback, can still beat Nigel Mansell's 1992 record of 14 in a single season.
The German had beaten Button by nine thousandths of a second to pole at Suzuka and said it was no surprise to see McLaren ahead.
"You could see that they were a fair chunk ahead of everybody else, including us (in practice)," he said.
"Once again we pushed them very, very hard in qualifying and got very close...I think we did a very good job in qualifying and also we saved also all our prime tyres which I think will be crucial tomorrow," he added.
Button, who has not been on pole since his 2009 championship season, congratulated Hamilton. "I am reasonably happy with where we are," he said. "It's not perfect but we can race very well from here.
"There's a lot to play for still and we really haven't got a clue what's going to happen tomorrow in the race in terms of tyre degradation on high fuel and what the car's really going to feel like on high fuel."
Ferrari's Felipe Massa, who has clashed repeatedly with Hamilton on the track this year, qualified ahead of team mate Fernando Alonso with the two in fifth and sixth places respectively.
Alonso was using a new front wing and indicated that could have been a problem rather than a solution.
"I'm not extremely happy. Obviously we weren't good enough today," said the Spaniard.
Mercedes Nico Rosberg qualified seventh and Russian Vitaly Petrov joined him on the fourth row for Renault.