A dog's life in Formula One, if your owner is Lewis Hamilton, means a VIP pass to the races and being pampered by the sport's supremo Bernie Ecclestone.
Hamilton, the 2008 champion who moved from McLaren to Mercedes at the end of last year, has acquired a bulldog called Roscoe which accompanied him to the last pre-season test in Barcelona.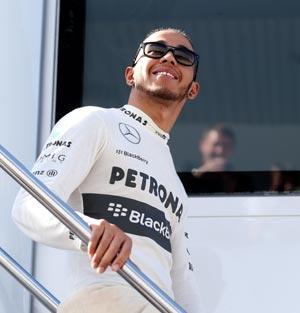 The Briton told reporters before this weekend's Australian season-opener in Melbourne that he had asked Ecclestone for a paddock pass for his "new best buddy" and had sent him a photograph of the puppy wearing a set of headphones.
"He has - and, yes, he will get it. I am a huge fan of bulldogs," Ecclestone, 82, told the official formula1.com website on Wednesday.
"I have told him that I would also be happy giving the dog a pass for the grid. And I will be happy to look after the dog while he is racing."
Animals are usually banned from racetracks, for safety reasons more than for their own welfare, with stray dogs causing problems in the past at some venues such as India.
In the United States, the Target Chip Ganassi IndyCar team have a bull-terrier mascot 'Bullseye' that has made appearances at race weekends including the Indy 500 winner's news conference with Dario Franchitti in 2012.
Photograph: Mark Thompson/Getty Images