Lack of infrastructure and racing culture among the Indians have resulted in motorsports not being able to grow as quickly as it could have in the country, feels racing enthusiast and businessman Gautam Singhania.
Singhania, who organised a track day for the Super Car Club, test drove a Ferrari 458 Challenge car and managed to achieve a timing of 1 min 59 secs -- the fastest non-open wheel drive achieved at the Buddha International Circuit in Greater Noida on Tuesday.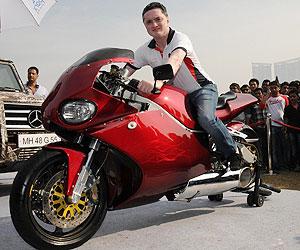 "It is disappointing when we compare India to other European countries. Infrastructure has been a real let down. We have only two proper circuits in the country, one BIC and the other in Chennai," he said.
"Apart from infrastructure, lack of motorsports culture, which is still considered a rich man's game, has not helped in the development of the sports," he added.
Singhania, who is preparing for the Ferrari Challenge Cup to be held in Europe this year, lapped over 4,500 kms in the last two days at the circuit and managed to reach the top speed of 270kmph.
"I have always been passionate about racing and motorsports. Today, we have a wonderful circuit in BIC, but it needs to be used properly. The common refrain among Indians remain that motorsports is a rich man's game, which needs to be changed," he said.
Singhania, who is the chairman and managing director of Raymond Ltd, also emphasised that a proper feeder system and infrastructure needs to be set up first to improve the standards of motorsports in the country.
"We need to have a setup for drifting, super car clubs, rally racing, F1, MotoGP first. It is very similar to other games like cricket where we have feeder system which include tournaments based on various age categories," he said.
Rally driver Gaurav Gill and young driver Aditya Patel were also present at the circuit.