Formula One looks likely to be reduced to 11 teams next season after the official 2013 championship entry list was published without struggling Spanish-based HRT on it.
The 22-car list was published on the governing International Automobile Federation's (FIA) website (www.fia.com) on Saturday after the expiry of a Friday deadline for teams to pay their entry fees.
Under the 2013 sporting regulations, Madrid-based HRT were required to pay entry fees of $500,000.
The owners of HRT, who have not scored a point in their three year existence, announced last month that the team was up for sale and talks were underway with various groups interested in buying them.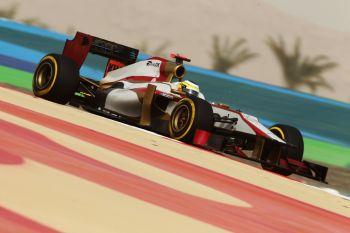 FIA sources indicated that HRT could yet be added to the list if they paid up and Spain's AS newspaper reported that HRT had been allowed more time to try and find a buyer.
The team was founded by Spanish ex-Formula One driver Adrian Campos in 2010, when three new teams were invited to enter the championship, as Campos Meta but the outfit hit immediate financial trouble.
It was renamed Hispania in a rescue operation led by Murcia-based businessman Jose Ramon Carabante and Colin Kolles, a former principal of what is now the Force India team, before being taken over by Thesan Capital in July last year.
Spanish veteran Pedro De la Rosa and Indian Narain Karthikeyan were the two drivers this year, with the Cosworth-powered team finishing 12th and last overall after beating Marussia in the two previous seasons.
There has been considerable scepticism within the sport about the prospect of any buyer emerging.
"I hope they find a buyer, an investor, and I hope they don't shut. But clearly there's a good possibility that they might," McLaren principal Martin Whitmarsh had told reporters in Brazil last weekend.
"I think we've got to recognise that after probably the four top teams, all the teams have got really big challenges and costs are escalating."
Japan's Super Aguri were the last Formula One team to fold, during the 2008 season due to financial problems.
Only five of the teams named their full driver lineup, including Williams who announced only this week that Finland's Valtteri Bottas would be racing for them next year in place of Brazilian Bruno Senna.
Sauber and Toro Rosso, who have both finalised their lineups, did not name any drivers.
Photograph: Mark Thompson/Getty Images