With just 19 days to go for the inaugural Indian Grand Prix, the Sahara Group bought 42.5 percent stake, worth US $100 million, in the Vijay Mallya-owned Force India F1 team.
Following Wednesday's deal, the Formula One team was renamed Sahara Force India.
The Sahara Group, headed by Subroto Roy, and Mallya's UB Group will have 42.5 per cent stake in the team, while the remaining 15 per cent will be with the Mol family.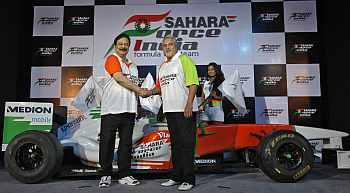 Mallya will continue to be the team principal.
Force India was formed in 2007 when a consortium, led by liquor baron Mallya, and Dutch entrepreneur Michiel Mol bought the loss-making Spyker Formula One team, reportedly for about for 90 million euros, and renamed it Force India.
India's maiden Grand Prix will be run on October 30, at the 120,000-capacity circuit on the outskirts of Delhi.
Media reports last week said Mallya planned to sell the team to the Sahara group, but they were denied by the liquor and aviation baron.
Force India, whose current drivers are German Adrian Sutil and Britain's Paul Di Resta, are currently placed sixth in the Formula One constructor standings.
The Sahara group, which also supported the Indian hockey team, had bid $370 million to become owners of the Pune franchise in cricket's Indian Premier League in October, 2010.
"Sahara Group will invest approximately 100 million dollars into the team. The total capital of the company has increased enormously. None of us sold or bought equity and there will be only re-structuring. New shares will be sold," Mallya said.
"Total shares will be distributed in three places. I will have 42.5 percent equity share and Sahara Group another 42.5 percent and Michiel Mol family 15 percent," he added.
Subroto Roy said their aim is to take the team to newer heights.
"Now we have joined hands with Vijay Mallya. We have to discuss the plans so that the team reaches to the top as soon as possible," Subroto said.
Subroto hinted that he was interested in having an Indian driver in the team but also clarified that he was not in a hurry.
"In future, an Indian driver should be in the team but priority is the Indian team and not the drivers as of now. The result is also important," he said.
India have produced two F1 drivers thus -- Narain Karthikeyan and Karun Chandhok -- but none of the two have been given a chance to drive with Force India.
Narain is presently associated with Spanish outfit Hispania and Karun is Test driver for Malaysia based Team Lotus.
Mallya said he has plans to bring in an Indian driver in the team but not immediately.
"I have never said that I am not interested in having Indian drivers. They do not suit me for whatever reason as of now. We are happy with the current team.
"We have selected 10 Indian guys from our talent hunt programme and trained them in Silverstone. The winner will be announced before the Indian Grand Prix and he will be trained further," Mallya said.
Mallya said initially he wanted Sahara's association with Force India just as a sponsor but the plan changed after Subroto Roy visited the team's factory in Silverstone, UK.
"Just like any other team, I also wanted a sponsorship deal with Sahara Parivar but after seeing my factory he was impressed with the set up there and agreed to invest this $100 million instead of sponsorship," Mallya revealed.
"It is a huge money and will be invested in research and development, technology upgradation and new concepts and innovation which come from time to time like the KERS and wind diffuser. Team positions are decided by one hundredth of a second these days and this huge investment will help in improving the team position," he said.
Mallya had bought the Spyker Ferrari F1 Team in 2007, reportedly for about for 90 million euros. He then renamed the team Force India for the 2008 season.
The team is at the sixth position in the constructor's championships with 48 points in the current season.
Mallya also owns IPL team Royal Challengers.
On the other side, Sahara Group that has interests in financial services, real estate, media and hospitality, is a major promoter of sports in India.
Sahara owns the new IPL team Pune Warriors India and also sponsors India national cricket team. It had also supported the Indian national hockey team.