India's return to Formula One will have to wait until at least 2016, by which time a new race in Azerbaijan could also be on the calendar, commercial supremo Bernie Ecclestone said on Wednesday.
Speaking to Reuters, the 83-year-old Briton dampened Indian hopes of the Buddh International Circuit near New Delhi hosting a race again next year after being dropped from the 2014 championship.
"At the moment, India won't be on for next year for sure," said Ecclestone.
"Probably 2016... they're gradually getting over all the bureaucracy with the tax position inside the country and the general finance," he added.
Ecclestone said in November that a deal had been done for the Indian Grand Prix to return in 2015 and for six years beyond that if tax problems with the country's authorities could be overcome.
Problems over taxation, with Formula One classified as entertainment rather than a sport in India, as well as the considerable bureaucracy to be overcome in bringing equipment into the country have been seen as obstacles to the race returning.
South Korea was also dropped from this year's calendar and Ecclestone said they too would have to wait for a comeback: "It's never been for next year. We've been thinking about 2016 again for them."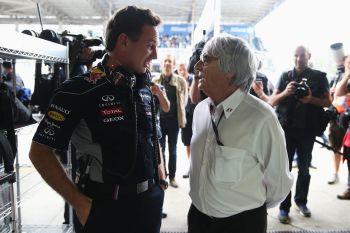 Russia, with a circuit threading through the Olympic Park in Sochi, is this year's new addition and Ecclestone saw no reason why that race should not happen despite international tension over the situation between that country and Ukraine.
"Don't cancel," he said when asked his advice for anyone with flights already booked for the race in the Black Sea resort in October.
BAKU RACE
Azerbaijan, with a street race in the capital Baku, could soon be joining Sochi as Formula One plans to increase its presence in the region.
Ecclestone said he would be having discussions about that subject on Thursday, with details yet to be determined.
"It's nice. Be ready, because you'll have to go," he said. "We're having a look to see if we can get it done for next year.
"It's not particularly straightforward but it will be a street circuit."
While Austria will be making its return to the calendar this season, for the first time since 2003 with a race at the Red Bull-owned Spielberg circuit. Germany's future is less assured despite the heavyweight presence of Mercedes in the championship.
The debt-loaded Nuerburgring has gone into administration and is looking for a new owner, with Ecclestone - who is due to go on trial in Germany in April on bribery charges - submitting a seemingly unsuccessful offer.
Nuerburgring currently alternates with Hockenheim as German Grand Prix host and Ecclestone said he was trying to do a deal with the latter circuit to take on the race every year.
"It depends who buys it," he said when asked about the chances of Formula One returning to the Nuerburgring, one of the sport's historic tracks albeit heavily modified from the fearsome one used from the 1950s to 1970s.
The 2014 calendar lists 19 races after plans to include Mexico and New Jersey were put on hold.
Both remain on the cards for 2015, even if there is considerable scepticism within the sport about New Jersey happening, in what looks like an increasing fixture headache for Ecclestone.
Image: Bernie Ecclestone
Photograph: Mark Thompson/Getty Images