Paul Di Resta will start ninth for Sahara Force India in Sunday's Italian Grand Prix despite finishing a creditable fourth in the final practice session due to a five-place grid penalty for an unscheduled gearbox change.
An impressive Resta had taken his Force India round in 1m 24.304s in Q3.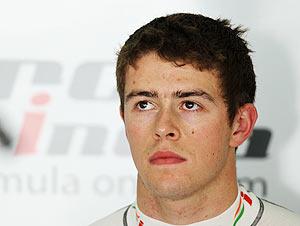 The 26-year-old British driver had received a five-place penalty after Force India opted to change the gearbox on his car, VJM05, here. Di Resta, currently 15th in the drivers' championship on 28 points, had not completed a minimum of five races with the gearbox as the rules stipulate.
However, there was disappointment in store for Resta's teammate and German driver, Nico Hulkenberg, who was eliminated almost immediately when his car was hit by technical issues and he had to abandon.
Hulkenberg's VJM05 stopped with a fuel-pressure issue before he had even done a timed lap, leaving him 24th.
Resta, after the practice session, said, "I'm very happy with my Q3 lap, which was my quickest lap so far. So we maximised it when it mattered. I think the entire team has done an excellent job to get us in this position."
"I knew I was going to have a grid penalty for the gearbox change, which is frustrating, but at least I will start inside the top ten. The challenge now is to make sure we have the race pace and use the strategy to come away with points," he added.
Hulkenberg called his early departure from Q3 as "disappointing".
"I was about to start my first timed lap in Q1 when I suddenly lost drive. I pulled over at the first chicane and the team told me to switch off the car. A very short and disappointing session for me. It's a shame this happened on a day when the car looks so competitive, but that's racing," he said.
The other man carrying grid penalties is Williams' Pastor Maldonado, who will drop a total of ten places thanks to his jump start and causing a collision at the last round in Belgium.
McLaren's Lewis Hamilton and Jenson Button wrapped up the front row of the grid for the Italian GP, followed by Ferrari's Felipe Massa in the third place.