Adrian Sutil qualified a decent eighth but a technical issue pushed Paul di Resta to as back as 17th on the grid for Sunday's Canadian Grand Prix, in Montreal.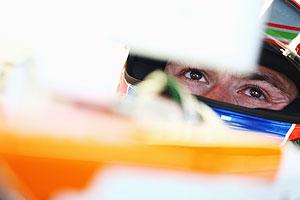 Force India had done well in the practice session with Paul setting the fastest time in the opening session but the side could not get the maximum from the qualifying due to tough weather conditions
Sutil's fastest lap in Q3 came in 1:27.348, which placed him behind Toro Rosso's Jean-Eric Vergne.
"It was a tough qualifying session and very hard to judge the conditions. Some parts of the track were wet and other areas were dry, so it was difficult to know how much to push. I also struggled to get the heat in the tyres, so it was not easy to get it altogether for one lap.
"The most important lap for me was just after the red flag: we all queued up at the end of the pit lane -- a bit like a race start -- and I knew I had one chance to make Q2.
Fortunately it worked out well for me," Sutil said.
Paul could not cross the Q1 as he timed 1:24.908.
"It's very frustrating to be starting in P17 so we need to sit down and analyse exactly what happened. Something went wrong with the seamless shift software during my first run in Q1 and when I came in the team tried to fix it. It was only a small issue, but we lost valuable time trying to find a solution. Meanwhile the track was getting faster and faster. By the time I had got back out it was raining again and therefore we missed the track at its best.
"There's not much you can do in that situation, but it's a massive disappointment given how competitive the car was yesterday. I'll try and take the positives because you can overtake on this track and the car is strong," the Scot said.
Photograph: Paul Gilham/Getty Images