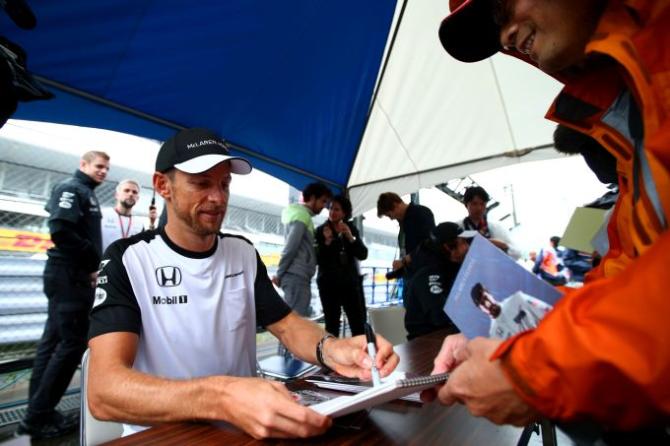 Jenson Button of Great Britain and McLaren Honda signs autographs during previews to the Formula One Grand Prix of Japan at Suzuka Circuit. Photograph: Clive Rose/Getty Images
Jenson Button hit back at Niki Lauda on Saturday after the Austrian Formula One great suggested the driver had told him he wanted to stay at McLaren next year and any uncertainty was about money.
Triple champion Lauda, now a non-executive chairman of the Mercedes team as well as a television pundit, told the BBC at the Japanese Grand Prix that he had spoken to Button about the situation.
"I said to Jenson yesterday, fight your fight with (McLaren boss) Ron Dennis over money, because it is always the same. But then stay, because if you go, one of the last quick guys has gone," said Lauda, who won his third title with McLaren in 1984.
"What is the best combination to make the car go fast and develop the engine? It is those two guys. Put a young guy in the car and the engine does not go faster," he added.
"In the end, Jenson and Ron are clever enough to get it together. Jenson said to me yesterday he wants to drive there and he doesn't want to retire."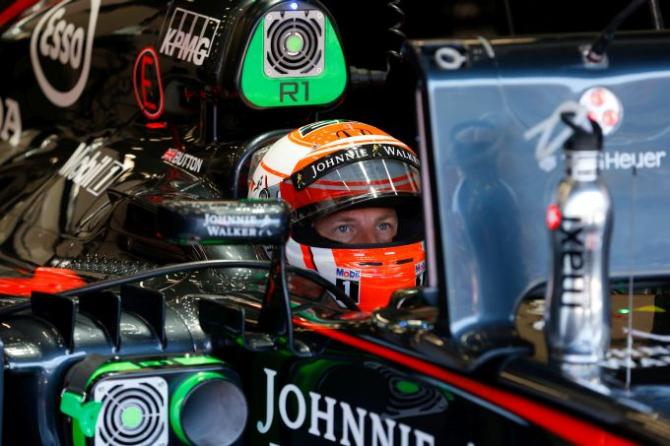 Jenson Button of Great Britain and McLaren Honda. Photograph: Charles Coates/Getty Images
Button disputed that version.
"We spoke as I was going for a pee, and I never understand him anyway," said the 35-year-old, denying that money was at the heart of the issue "I think I just said 'yes', being friendly.
"I didn't really have a conversation as such. It's nice that he's gone to the media and said that, though."
Button also responded to a comment by McLaren managing director Jonathan Neale, who had told reporters that he hoped Button would stay but one had to respect the driver's position if he did not want to be in the car.
"It's nice to read comments from other people in the team for once, it's not just mine that are in the press but nothing's changed," said Button.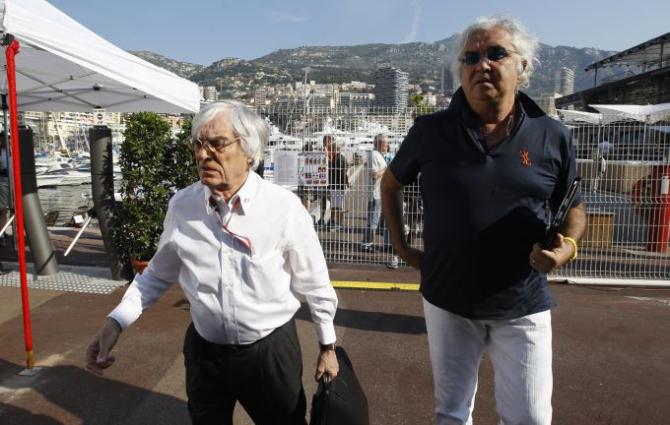 Formula One commercial supremo Bernie Ecclestone (L) arrives with former Renault F1 principal Flavio Briatore. Photograph: Max Rossi/Reuters
While the Briton was resigned to questions about his future, team mate Fernando Alonso was more surprised to be facing them after comments from his manager Flavio Briatore appeared in Spanish media.
Briatore was quoted as saying Alonso could leave if Honda-powered McLaren, who have had a nightmare season and last won a race in 2012, did not give him a winning car.
"I thought those type of questions were for Jenson today," said Alonso. "Definitely I can tell you that I will not go anywhere else.
"I trust the project and I think... it's just a matter of time that they will win again. They are one of the best in the business," he added.
"Unfortunately we are in a difficult time and the starting point was quite low but we are making progress as fast as we can. Hopefully we can make this tough time as short as